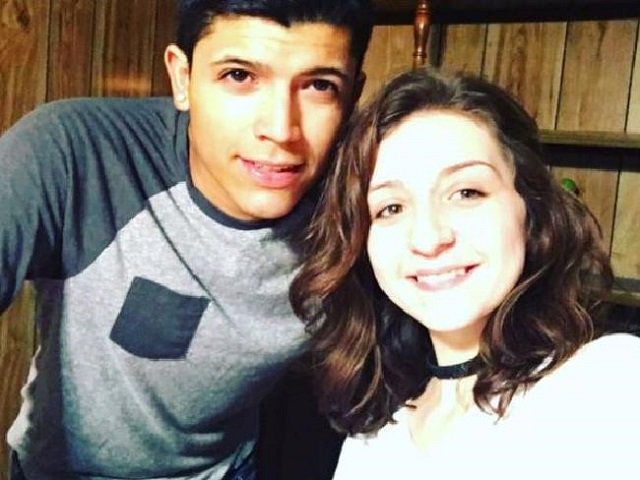 ---
A 19-year-old pregnant woman in Minnesota has been charged with manslaughter after she shot her boyfriend in what authorities say was a social media stunt gone wrong.
Monalisa Perez, 19, was booked into county jail after shooting at Pedro Ruiz, 22, as he held a book to his chest, believing it would stop the bullet. The couple were recording a YouTube stunt for her Vlog.
The video was initially supposed to be Perez shooting a book while Ruiz held it, and they believed that the book would stop the bullet, Perez told the police.
 According to court documents, the 19-year-old shot him with a gold Desert Eagle .50 caliber handgun, which is considered to be one of the most powerful pistols in the world, outside their home while he held up a hardcover encyclopedia to block the bullet. The couple's three-year-old daughter and nearly 30 onlookers watched as she fired the fatal bullet into his chest.
Teenage boy emasculated, blinded for 'having relationship with girl'
Ruiz wanted to record a video of this stunt which went horribly wrong after the bullet pierced through the encyclopedia to Ruiz's chest. They had set up a GoPro camera which was to record this stunt. The two cameras — which recorded the shooting — have been secured as evidence for the investigation.
Me and Pedro are probably going to shoot one of the most dangerous videos ever😳😳 HIS idea not MINE🙈

— Monalisa Perez (@MonalisaPerez5) June 26, 2017
Perez called 911 around 6:30 pm on Monday to report to police of the accidental shooting, and Ruiz was pronounced dead at the scene itself. Perez, who shot Ruiz from about a foot away, was charged with second-degree manslaughter  on Wednesday, according to court documents. She faces up to 10 years in prison and/or a fine of $20,000.
Ruiz's aunt told Valley News that he had told her he intended on doing the stunt "because we want more viewers, we want to get famous. He had told me about that idea and I said, 'Don't do it. Don't do it. Why are you going to use a gun? Why?'" Claudia Ruiz told the TV station.
Another teenager sexually assaulted in capital
"They were in love, they loved each other," she said. "It was just a prank gone wrong. It shouldn't have happened like this. It shouldn't have happened at all."
In a video, Perez said she was 25 weeks pregnant, and was 'excited' that Ruiz was home for the birth of their baby boy who they had decided to name Pedro after his father. Local authorities have said that the video recorded of the failed stunt shall not be released.
This article originally appeared on BBC.