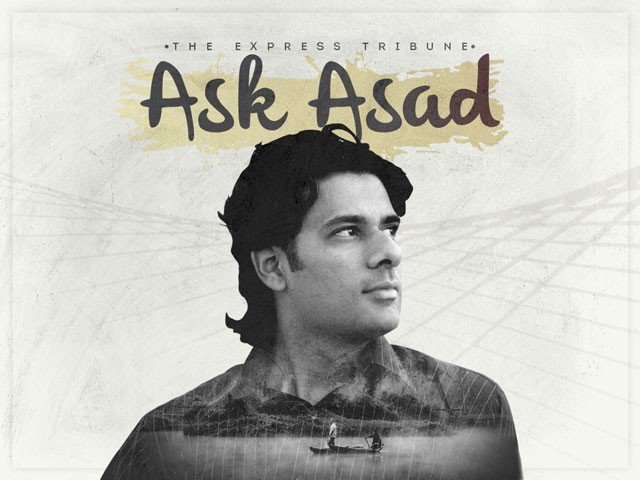 ---
Dear Asad,

I am a 34-year-old guy who got married almost three years ago out of my own choice. However, my wife has never liked the idea of a marriage. This does not mean we did not enjoy happy moments together but due to her extremely curious and inquisitive nature she has time and again dug up my past and continues to torture me by referring to it.

We end up in a fight every time she starts accusing or questioning me for something I may or may not have done in my past. This has not only caused irreversible damage to our marriage but has also created an unavoidable trust-deficit in her mind. Lately, she has taken it to the next level by being very rude, using obscene language, locking me out of our room, hiding my clothes and accessories, threatening me and even started hitting me physically. Her repetitive suspicious behaviour towards me has made me think about our future together. I am mentally drained to be accused on a regular basis for my loyalty. She tries to snatch my mobile frequently to check my messages and call logs. 

Ask Asad: My girlfriend has suicidal tendencies. How should I break up with her?

She is also not supporting my idea of moving abroad and continues to create hurdles for me that has led me to ponder over applying individually without considering her in my future plans. Let me mention here that she is a working woman with foreign qualification. But her attitude flummoxes my mind that how such a highly-qualified person can act so childishly and foolishly to ruin the present and future over baseless suspicions?

She comes off as an extremely unstable and insecure person who has no faith in me or our marriage, not to mention her desire of being free and independent again, as she has not even shied away from asking for a divorce recently. I am not saying that I am perfect in any way. I am a normal human being with usual flaws. However, I have successfully distanced myself from any bad habit or company and asked the Almighty God for forgiveness as well. All I now want is a peaceful life and a reliable life partner for our future kids.

Please advise me what should I do next? Should I consider my future with or without her, as I seem to have no solution left for changing her suspicious mindset? I have exhausted all my efforts in doing so, including involving our elders to counsel her but she just would not budge and accept that she is wrong or change her ways for good.



Sincerely,

A peace-seeker





Dear peace-seeker,

In a healthy marriage, arguments should not generally cross the line into nasty criticisms or insults and definitely not physical attacks. There should be an underlying sense of respect and affection that prevents conflict from becoming too bitter or mean-spirited. As this does not seem to be the case for you and your wife, then there is something fundamentally wrong with the relationship that you both have with each other.

Ask Asad: My father is a compulsive gambler – how do I help him quit?

A successful relationship should be based on love, respect and trust. It also helps a great deal if both the partners have a similar set of values. A marriage requires two people and the consent and involvement of both to make it work. If you are trying your best to make your marriage work but your wife is not then the chances of your marriage turning out to be a successful one are slim.

I think you nailed it when you mentioned the words "trust-deficit" in your letter. That is one of the main issues why your wife is behaving this way. She simply does not trust you. Now her lack of trust in you is justified or not is another argument altogether. In her mind, you are not trustworthy. According to you, you have tried everything to earn her trust but have not succeeded yet. This is not because you did not try; it is because she is unwilling or unable to trust you. The cause of distrust rests with her – not you – deep within her. Only she can overcome it, i.e. if she really wants too.

Being highly educated, foreign qualified and a working person is not a sure shot recipe for a marriage to work. At the end of the day, your wife is a human being with emotions, moods, temper and weaknesses. Education teaches us to work with our emotions in a civilised manner. It cannot teach us how to suppress them or completely ignore them.

It seems to me that both of you have already come to the realisation that perhaps you do not have a future together. Proof of this is the fact that you are contemplating going abroad without her and she, on her part has started voicing her demands for a divorce.

The way I see it, you both have the following choices.



Marriage counselling

If you are unsure of how or what you can do to improve your marriage, consider seeing a marriage counsellor. A marriage counsellor may help you fix more problems than you expect. They can help you both work together to find what issues need addressing and how best to approach them.

Note: In some cases, marriage counselling can be done with only one of the partners present. This might be helpful if your wife is unwilling to go for marriage counselling. There are many therapeutic approaches that are recognised as being effective and medially-sound. Two common evidence-based approaches to marriage counselling are 'Emotionally-Focused Couples Therapy' and the 'Gottman Method'.

Ask Asad: How can I marry after being sexually assaulted?

Emotionally-Focused Couples Therapy works to rebuild the foundation of a marriage by focusing on repairing trust, fostering emotional intimacy, and rekindling feelings of love and affection. The Gottman Method works to rebuild a marriage by first changing the behaviour of each partner. This method emphasises communication skills, conflict resolution, strengthening the friendship within a marriage, and being more caring/considerate partners to one another.

Separation

Rather than permanently ending the relationship, a 'trial separation' might be better. It could be a way for you and your wife to gain some perspective on your relationship. A separation with your spouse does not have to spell the end of the relationship – you can always reconcile later on – but might be a good time to assess and figure out your needs. Whether you ultimately decide to end the relationship or find ways to make changes that will strengthen your bonds, the way to survive a separation is to take the time to think through practical decisions.

Note: Marital separation is never easy, no matter how necessary the separation might be. You and your wife will both feel intense emotion and should expect plenty of tears and anger. You might find yourself feeling sad, depressed, anxious, exhilarated, and guilty – all within the same day. These feelings might be penetrating and uncomfortable, but they are all a normal part of the sadness felt after a separation.

Divorce

Considering divorce is never easy. Nevertheless, you might have to confront the fact that your marriage is no longer healthy. If your marriage is full of anger or betrayal then divorce might be an option. While getting a divorce is a life upheaval, staying in an unhealthy marriage can be detrimental to self-esteem and mental health. Some studies have shown it is better to get out of a caustic relationship and work to improve your own mental health than to stay.

Ask Asad: I am in an illicit relationship with my uncle's wife – how do I end it?

In the end, both of you need to make the right decision for yourselves, so you should begin by taking stock of what you want from your relationship with each other. Do you want to try and reconcile? Or do you believe that the relationship has permanently broken down? This is something only you both can answer.

My suggestion will be to try your best to make your marriage work. If it works out then it is excellent. If it does not, then you will at least have the satisfaction that you tried your best to save it.



All the best!

Asad





Asad is a counsellor, life coach, inspirational speaker and a personal-development expert. He advises on social, personal and emotional issues. You can send him your questions for this weekly column at [email protected] with "Ask Asad" mentioned in the subject line and provide as many details as possible.

Note: The opinions expressed in this article are those of the author and do not necessarily reflect the views of The Express Tribune.
COMMENTS (7)
Comments are moderated and generally will be posted if they are on-topic and not abusive.
For more information, please see our Comments FAQ