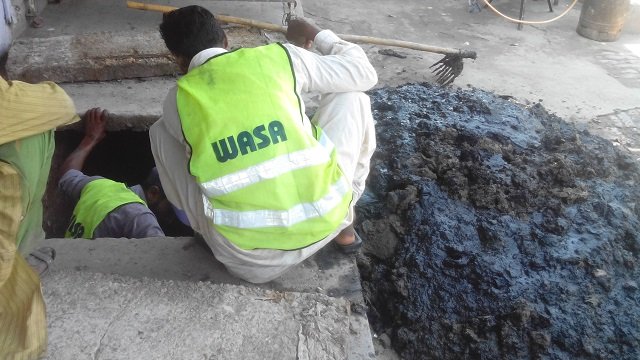 ---
FAISALABAD: Only 63% population in Faisalabad is supplied potable water due to unavailability of resources and lack of funds. We are in a fix to enhance our efficiency and to improve the city's water supply system.

These views were expressed by Water and Sanitation Agency (WASA) Managing Director Faqir Muhammad Chaudhry while speaking to The Express Tribune on Thursday.

He said the existing water supply system was not enough to fulfill the demand of clean drinking water for people in the city. However, efforts were being carried out to devise a comprehensive strategy to counter the crisis.

Faqir Muhammad said, "The underground water is not only brackish but is also contaminated and results in spread of various diseases. There is a need to resolve the water issue of the city on priority."

He claimed for the purpose, a comprehensive strategy had been evolved while work on various water supply projects was under way that would be completed by the year 2021.

New WASA chief vows to address water shortages

While explaining details of the water supply process to Faisalabad, the WASA managing director maintained, "The subsoil water of the city is not fit for human consumption. Therefore, in order to fulfill the needs, the utility has to supply water from four different points by incurring huge expenses." He added, "The main source of water is River Chenab Bed near Chiniot from where the water is supplied to the city through 28-kilometre long pipeline."

"The Chenab River bed contains best quality water and is suitable for human consumption," he pointed out.

He said the other sources of water were Jhang Branch Canal and Rakh Branch Canal. Similarly, he said a water treatment plant had been installed at Novelty Bridge that supplies clean water to the city.

Faqir Muhammad revealed WASA had the capacity of supplying 110 million gallons of water on daily basis against the required 150 million gallons. "We have a 1,400 kilometre long network of water supply pipelines throughout the city and providing uninterrupted service to the metropolis is a huge task."

The WASA chief maintained, "WASA is confronted with shortage of funds which is one of the major issues.  Our income is mere Rs65 million annually against Rs1,440 million which is the operational and maintenance cost of the system."

He lamented that since 2006, the government refrained WASA from increasing its water and sewerage tariff which was the main source of utility's income. He said, "Now the situation has worsened and WASA is facing financial crunch."

VIA biotechnology: PU, WASA join hands for sewage treatment

Details of projects

• More than 20,000 meters have been installed by WASA across Faisalabad, including commercial, domestic and industrial connections.

• Old water supply lines are being replaced with fiber pipelines so as to minimise the complaints of leakage.

• WASA would initiate a campaign to recover billions of rupees worth of outstanding dues from defaulters.

• A mega water supply project costing Rs14 billion has been initiated that would be completed in three years.

• Work on water project worth three billion rupees is being carried out with financial assistance from World Bank.

• Plan to treat and utilise 150 million gallons of waste water on-the-cards

Published in The Express Tribune, June 16th, 2017.
COMMENTS
Comments are moderated and generally will be posted if they are on-topic and not abusive.
For more information, please see our Comments FAQ