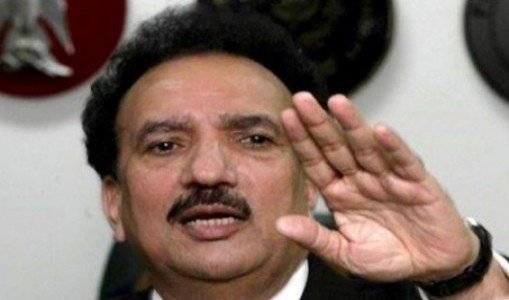 ---
KARACHI: Interior Minister Rehman Malik has decided to file an appeal in the Supreme Court after the Lahore High Court (LHC) on Monday rejected his appeal against his conviction by an accountability court in 2004.

The appeal is expected to be filed in a few days and comes as a stunning volte face, given that President Asif Zardari pardoned Malik in a late night development on Monday. Malik is said to have decided to prefer an appeal after consulting legal experts in Karachi on Tuesday. Accordingly, the interior minister obtained pre-arrest bail from the Sindh High Court the same day, in order to avoid arrest under the terms of the LHC judgement. Malik is also said to have claimed he respects the judiciary and is hoping justice will be administered to him.

On Monday, the LHC had upheld Malik's conviction by a Rawalpindi accountability court in two corruption references filed by the National Accountability Bureau (NAB). And the press release issued on late Monday night from the Presidency read: "President Asif Ali Zardari on Monday night granted pardon to Interior Minister Rehman Malik against 'conviction and sentence' awarded to him by Accountability Court Rawalpindi in January 2004 in absentia under 31-A of NAB Ordinance and against which his appeal was rejected by the LHC today (Monday)."

QAISAR ZULFIQAR ADDS FROM ISLAMABAD: Meanwhile, the legal contortions performed by the minister have given birth to a whole new debate regarding the legality of this pardon. "Although the president has the power under article 45 to pardon any convicted person, the spirit of the article dictates that these powers be used only under special circumstances," note some experts. Lawyers Hamid Khan and Ikram Chaudhry are of this group. "A presidential exercise that favours a specific person has no justification," they argue. "This will further escalate the conflict among institutions."

Prominent lawyer leader Ali Ahmad Kurd also scoffs at the use of discretionary powers to oblige whom he calls "blueeyed boys". Justice (retired) Tariq Mehmood, meanwhile, is opposed to discretionary powers in principle. Even PPP politician Aitzaz Ahsan, who is a lawyer, insists that reasons are required to exercise discretionary powers. Although Ahsan doesn't say as much, by necessary implication, such reasons are supposed to be justiciable. And lawyer Hamid Khan is not scared of saying so. "Any person can challenge the misuse of discretionary powers by the president in the Supreme Court," he says.

Another debate doing the rounds is whether a pardon automatically wipes out a conviction. Well-known constitutional experts believe that the conviction remains intact even when the president has pardoned a person. "In normal circumstances, the president simply grants a pardon and does not abolish the conviction but under the discretionary powers, he can also abolish the conviction," says former chief justice of Pakistan Saeeduz Zaman Siddiqui. "One will have to see what order was issued under article 45 on Monday night." Meanwhile, others wonder at the efficacy of a presidential pardon in 'wiping out' a conviction. "There is no legal or constitutional bar on Rehman Malik continuing as a minister but on moral grounds, he should not because his conviction is still intact," says former Supreme Court Bar Association president Muneer A Malik.

"In the case of [PPP-S leader] Aftab Sherpao, the accountability court declared him an 'absconder in absentia' under Section 31-A of the NAB ordinance," remembers Malik. "However, Sherpao challenged this in court on his return from exile in 2002. This was then accepted by the court, which abolished his conviction."

Published in the Express Tribune, May 19th, 2010.