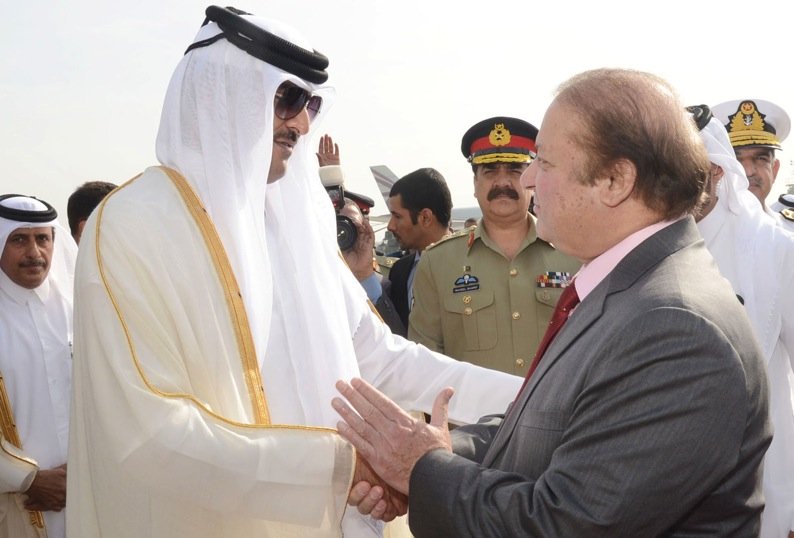 ---
ISLAMABAD/ ANKARA: Pakistan has no immediate plans to cut diplomatic ties with Qatar, Foreign Office spokesperson said on Monday.

The country "has no such plans," the spokesperson, Nafees Zakaria, said, following Monday's surprise severing of ties with Qatar by Islamabad's key ally, Saudi Arabia, and three other Middle East nations.

"At the moment there is nothing on Qatar issue, (we) will issue a statement if some development takes place," Zakaria said. Pakistan, which has a significant Shia population, has in recent years been caught between the feud between its Sunni ally, Saudi Arabia, and Shia majority neighbour Iran.

Saudi, Bahrain, Egypt and UAE cut ties with Qatar

Saudi Arabia, Egypt, Bahrain and the United Arab Emirates announced on Monday they were severing diplomatic ties with Qatar, as they accused the Gulf state of supporting terrorism.

Saudi news agency SPA said Riyadh cut diplomatic ties and closed borders with its neighbour to "protect its national security from the dangers of terrorism and extremism".

Severing ties with Qatar not solution to regional crisis - Iran

A senior Iranian official said on Monday the decision by some Gulf Arab states and Egypt to sever diplomatic ties with Qatar would not help end the crisis in the Middle East. Saudi Arabia, the United Arab Emirates, Bahrain, Yemen and Egypt accused Qatar of supporting terrorism, opening up the worst rift in years among some of the most powerful states in the Arab world.

"The era of cutting diplomatic ties and closing borders is over... it is not a way to resolve crisis. These countries have no other option but to start regional dialogue," Hamid Aboutalebi, deputy chief of staff of Iran's President Hassan Rouhani, tweeted on Monday.


۵)عربستان،مصرامارات،بحرین که دربرابرکشوری کوچک به این میزان شکننده‌اند!راهی جزدموکراسی در داخل،وگفتگودرمنطقه ندارند؛عصرقبیله پایان یافته است

— Hamid Aboutalebi (@DrAboutalebi) June 5, 2017


"What is happening is the preliminary result of the sword dance," he said in an apparent reference to US President Donald Trump's recent visit to Saudi Arabia. Trump and other US officials participated in a ceremonial sword dance in a trip to Saudi Arabia last month.

Major UAE airlines suspend all flights to Qatar

During the trip Trump singled out Iran as a key source of funding and support for militant groups. Iranian authorities have criticised a rising alliance between Washington and Riyadh against Tehran, saying it would further heighten crisis in the Middle East.

Sunni Kingdom Saudi Arabia and Shia-led Iran are at odds over what Riyadh sees as Tehran's efforts to tighten its grip on Arab states, from Iraq to Lebanon, and Syria to Yemen.
COMMENTS (16)
Comments are moderated and generally will be posted if they are on-topic and not abusive.
For more information, please see our Comments FAQ