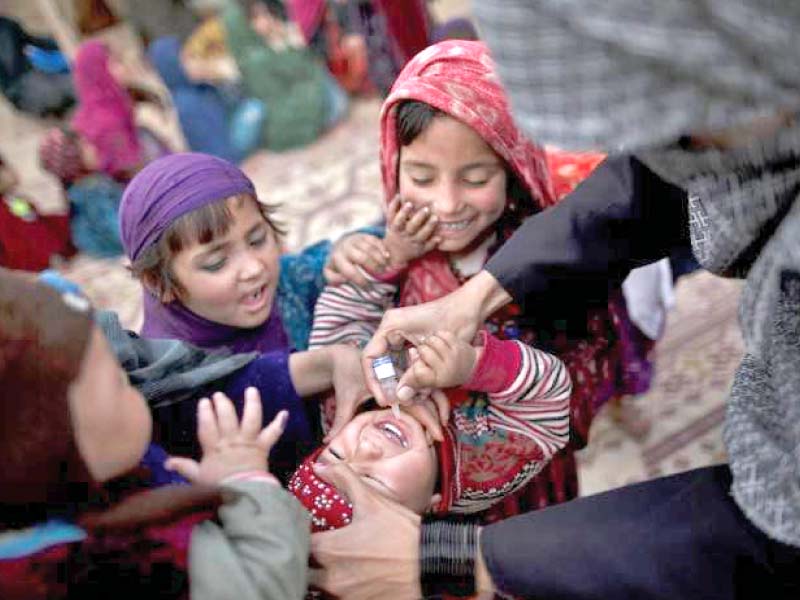 ---
PESHAWAR: With recent environmental samples from Peshawar testing positive for the polio virus, authorities striving to eliminate the virus have come up with a fresh strategy to identify and eradicate the crippling disease.

The strategy, which is still in the planning stage and is expected to be adopted soon, includes joint efforts by the Expanded Programme on Immunisation (EPI), Polio Eradication Initiative (PEI) and specifically the Water and Sanitation Services in Peshawar (WSSP).

Officials involved in the eradication campaign say that initially all high-risk areas would be mapped, high-risk union councils would be identified, targeted campaigns would be carried out especially for mobile population (nomad, internally displaced people).

One of main target areas in Peshawar was the Shaheen Muslim Town where environmental samples had repeatedly tested positive for the virus since the neighbourhood was a convergence point for sewerage from 17 union councils.

Hence, officials said, they would focus their efforts on the areas surrounding the town.

"We have achieved our first goal - no human case has been confirmed in Khyber-Pakhtunkhwa and it suggests immunity against the virus has increased among children," said Dr Hameed Afridi, director for EPI in Khyber-Pakhtunkhwa (K-P).

No poliovirus case has been reported in the province so far this year. Once termed a reservoir for the virus, K-P had recorded a high of 68 cases in 2014 which fell to just 17 in 2015 and to eight in 2016.

However, Dr Afridi said that they require uniform activity [campaigns across the country at the same time] to help eradicate the virus from the environment as well.

He added that with environmental samples testing positive for poliovirus, they were planning to adopt a fresh strategy to achieve their target of zero cases and its transmission.

Explaining their strategy, the EPI director said that they were focusing on areas where the environment samples were turning out positive, had a large number of non-vaccinated or missed children, mobile population and also where access to health care was limited.

The EPI director beamed as he talked about the effectiveness of their campaigns across the province which had resulted in zero cases so far this year. However, he was quick to warn about sporadic cases which could surface anywhere and highlighted the importance of targeting core reservoirs.

In this regard, Dr Afridi said that some 3,000 children (having previously received no vaccine doses) had been immunised during the routine vaccination drive. Moreover, 2,000 children who had been missed during the health camps in high-risk areas such as Peshawar and Bannu were also covered.

Further, he said that that they had set up camps across 84 high-risk union councils within the two districts where people were offered health facilities. Moreover, 47,000 high-risk population, including Afghan refugees, temporarily displaced people and nomads were also provided assistance. Dr Afridi stated that they had distributed 11,079 family kits among pregnant women while another 20,000 women were provided with antenatal care.

Published in The Express Tribune, May 30th, 2017.
COMMENTS
Comments are moderated and generally will be posted if they are on-topic and not abusive.
For more information, please see our Comments FAQ