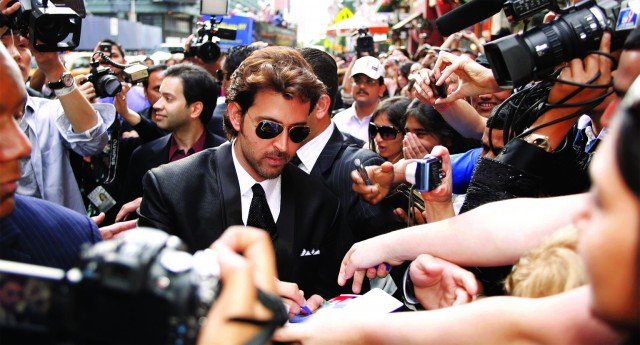 ---
MUMBAI: Bollywood heartthrob Hrithik Roshan, has been off cinema screens for the past two years, but has high hopes for his new film Kites which also carries weighty industry expectations after a poor start to 2010.

Roshan, 36, has not been seen in a starring role since 2008, when he appeared alongside the former Miss World and model Aishwarya Rai in Jodhaa Akbar, a love story about the Mughal emperor Akbar and his Hindu wife, Jodhaa. Kites, to be released in India and 35 other countries on Friday, is a romantic drama about a fugitive left for dead in the Mexican desert, who meets the love of his life -- and goes on the run across the United States."

I have given more than two years of my life to this film and I am hoping that people accept me in this film," said Roshan, whose chiselled good looks make him one of Bollywood's most recognisable and talked-about stars. Kites has become the most anticipated Hindi-language film this year, given the lack of other movies to make an impact at the box office other than the recent comedy Housefull. The lackluster start to 2010 follows a disappointing 2009, which saw total Indian cinema revenues fall 14 per cent after a producers' boycott of multiplex venues, swine flu fears and a string of big-budget flops.

Roshan promised Kites would be different in terms of size and content. "The scale of this film is huge and Indian audiences have never seen anything like it here," he said. Distributors Reliance Big Pictures said that the film, which has been aggressively marketed, would be shown on 500 screens outside India -- making it the biggest ever worldwide release of an Indian film. Roshan, whose father, Rakesh, produced the film, made his name in 2000 with the film Kaho Naa Pyaar Hai propelling him to superstar status among Bollywood's hero-worshipping fans.

But after a series of mediocre films, Roshan changed approach in 2004, deciding to concentrate on making one quality film every one to two years -- reflecting a trend among bigger name stars such as Aamir Khan and the strategy appears to have paid off. Roshan said his decision came after realising that fame was largely a fickle construct of celebrity-obsessed sections of the Indian media. "The people who praised you non-stop turned their back against you when you were not doing well commercially at the box office ... I am not here to compete with anyone but to do good work and good films," he said. "An actor cannot do more than 30 to 40 films in his lifetime.

I could either do it in five years and get exhausted or act all my life. I chose to be selective and do fewer films." Roshan, due to appear in Guzaarish later this year, said he is not worried that fans will forget him during his breaks from cinema."I am doing (television) commercials and my fans do see me and keep in touch," he said. "There's also my Twitter account."

Published in the Express Tribune, May 19th, 2010.
COMMENTS (1)
Comments are moderated and generally will be posted if they are on-topic and not abusive.
For more information, please see our Comments FAQ