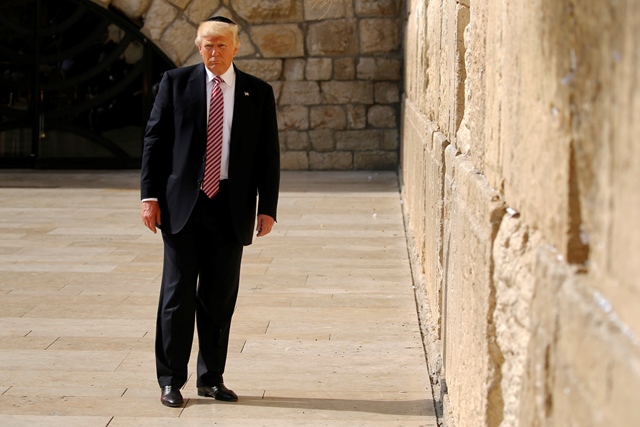 ---
BRUSSELS: US President Donald Trump will press his NATO allies on Thursday to increase defence spending and take a more active role in the fight against terror.

Here are the expected main talking points during the brief summit at NATO's new, futuristic headquarters on the outskirts of Brussels.

Washington and top US political figures have been demanding that the allies share more of the defence burden since NATO was set up in 1949 to hold back the Soviet Union.

Trump however has been unusually blunt, warning on the campaign trail he might first check whether an ally is up to date with its contributions before deciding to come to its aid.

That apparently less than full commitment to NATO's core Article 5 "all for one, one for all" collective defence commitment caused consternation in Europe.

Dubbing NATO "obsolete" only added to dismay among allies who, marshalled by Trump's predecessor Barack Obama, had committed to the biggest defence build-up since the end of the Cold War to counter a more aggressive Russia.

NATO mulls sending thousands more troops to Afghanistan

At their 2014 Wales summit, NATO leaders agreed to allocate two percent of economic output to defence annually within a decade.

So far, only the US, Britain, Greece, Poland and Estonia have met the target while the rest are doing their best to make up lost ground.

Washington spends some $650 billion a year on defence, equivalent to about 70 percent of the combined budgets of the 27 other NATO members.

European diplomatic sources say the allies want to have something to offer Trump, perhaps agreeing to annual defence spending reviews so as to encourage progress towards the two percent target.

Trump said NATO was "obsolete" because it was unsuited to what be believed to be the real threat of our times, Islamist terrorism.

That wrong-footed allies focused on Russia and who believed that by having joined the US-led anti-Islamic State coalition they were already on the front line in the war against jihadi groups.

Trump however wants NATO to take the next step and join the coalition itself to give a powerful symbol of political support for the campaigns in Syria and Iraq.

NATO currently provides AWACS surveillance planes to help anti-IS operations and trains officers in Iraq but it stresses that these are and should remain non-combat roles.

Diplomatic sources say some of the allies, including France and Germany, are reluctant to go further for fear of getting dragged into a fully-fledged ground war and risking NATO's standing with Arab powers in the region.

They are also concerned NATO could end up taking over control of the whole operation in Iraq, just as it did in Afghanistan in 2003.

Australia considering NATO request to send more troops to Afghanistan

Afghanistan has since become NATO's longest military commitment and it shows no signs of ending as a resurgent Taliban make deadly inroads against government forces.

The Russian bear could prove to be the elephant in the room.

Trump arrives in Brussels embroiled in a political scandal at home over his handling of links with Moscow, during his campaign and since his election.

He says he wants to improve relations with Russia which have hit post-Cold War lows following Moscow's intervention in Ukraine, and claims the scandal is politically motivated to derail any possibility of that happening.

Obama got all the allies onside over Ukraine and the response to Russia but there remain differences of opinion, with some countries, such as Italy and Hungary, going along with damaging EU economic sanctions only reluctantly.

The sanctions are up for renewal in July and EU diplomatic sources say while patience is wearing thin, most expect them to be rolled over unchanged for another six months.

Moscow meanwhile dismisses them as ineffective and counter-productive and diplomats say Russia appears to have found ways around many of the measures.
COMMENTS
Comments are moderated and generally will be posted if they are on-topic and not abusive.
For more information, please see our Comments FAQ