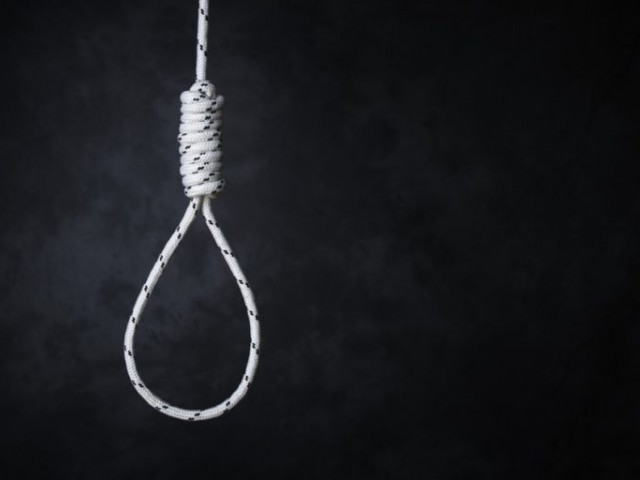 ---
Four terrorists belonging to the banned Tehreek-e-Taliban Pakistan (TTP) were executed in a Khyber-Pakhtunkhwa prison on Thursday.

The militants were tried by military courts and convicted for their involvement in acts of terrorism, including killing innocent civilians, attacks on law enforcement agencies and armed forces, a statement issued by Inter-Services Public Relations (ISPR) said.

Four terrorists hanged in K-P: ISPR

"Today another four hardcore terrorists, who were involved in committing heinous offences relating to terrorism, including killing of innocent civilians, destruction of communication, electricity infrastructure, destruction of educational institutions, attacking armed forces of Pakistan and law enforcement agencies are executed at a jail of K-P. These convicts were tried by military courts," the statement read.

According to the statement issued by ISPR, the four militants hanged were identified as Muhammad Ibrahim, Rizwan Ullah, Sardar Ali and Sher Muhammad Khan.

Ibrahim was an active member of TTP and was involved in the killing of a civilian, destruction of a bridge and attacking armed forces which resulted in death of civilians and a soldier. He admitted his offences before the magistrate and the trial court, following which he was awarded death sentence.

Rizwan Ullah was involved in killing a civilian, kidnapping a Wapda employee and attacking armed forces which resulted in injuries to an officer and a soldier. Fire-arms and explosives were also recovered from his possession. Rizwan Ullah was awarded death sentence after his confession before the magistrate and the trial court.

Four TTP militants hanged: ISPR

Ali was involved in attacking armed forces and destruction of an educational institution which resulted in injuries and death of soldiers.

Khan was sentenced to death for his involvement in attacks on armed forces, killing and injuring several soldiers.
COMMENTS
Comments are moderated and generally will be posted if they are on-topic and not abusive.
For more information, please see our Comments FAQ