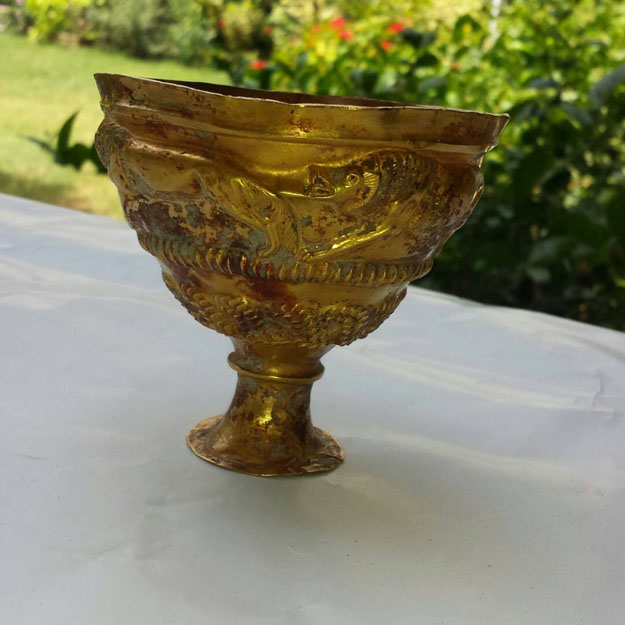 ---
KARACHI: On the occasion of World Museum Day on May 18 (tomorrow), the National Museum of Pakistan is planning to display rare artefacts that bear testimony to the rich history of the Indus Valley Civilisation.

The relics to be displayed suggest how the geographical location enabled our region to share culture and ideas from the Indian civilisation in the East and from Mesopotamian and Egyptian civilisations in the West.

National Museum of Pakistan Director Muhammad Shah Bukhari told The Express Tribune that there are three must-see artefacts that will be displayed at the museum tomorrow. They include a manuscript written in Sanskrit on a birch bark containing Buddhist teachings, a statuette of an Egyptian child god and a goblet made of gold.

Rare artefacts to be displayed at National Museum on May 18



The Buddhist script in Sanskrit




According to Bukhari, the Sanskrit text on a bark depicting Buddhist teachings is one of the rarest manuscripts in the world.

"It is a very old manuscript, which has been written on the bark of a birch tree," Bukhari said, adding that it dates back to 5th or 6th Century AD. It was found in a cave in Gilgit in 1930 by a young shepherd boy. It had been preserved in the cave because of the cold climate of Gilgit region. "Later, an Italian archaeologist, too, discovered similar manuscripts tucked in a shop in a Rawalpindi bazaar," Bukhari said.

The National Museum of Pakistan houses 42 of such old Sanskrit manuscripts on birch bark while a few similar scripts are in possession of the British Museum in London and the National Museum of India in New Delhi.



The Egyptian child god from Taxila




The museum will also display a statuette of Horus or Harpocrates, the Egyptian child god. It was surprisingly found during the excavation of Sirkap site in Taxila in Pakistan.

"This bronze statuette of Harpocrates stands with heels together and is wearing a long sleeveless tunic that is reaching his ankles," said Bukhari. His right hand's index finger is raised and is touching his lips. The child god has curly hair. He is also known as the God of Silence, he adds.

Geological Museum to open its doors to Karachiites on May 18

How the statuette of an Egyptian god, which dates back somewhere between 1st Century BC and 1st Century AD, arrived in Taxila, is still a mystery. According to Bukhari, there is a high possibility that it came to our region with the army of Alexander the Great.



The golden goblet

Another unique item that will be on display is a huge bowl made of gold, with a hollowed pedestal base. "This is a masterpiece dating back to 1800 BC," Bukhari said while sharing details about the goblet, adding that below the rim, it is embellished with four embossed lions that seem to be in procession.

"Found at Serena Hotel, Quetta, about a decade ago, it seems to be from Mesopotamia, the present day Iraq," said Bukhari.