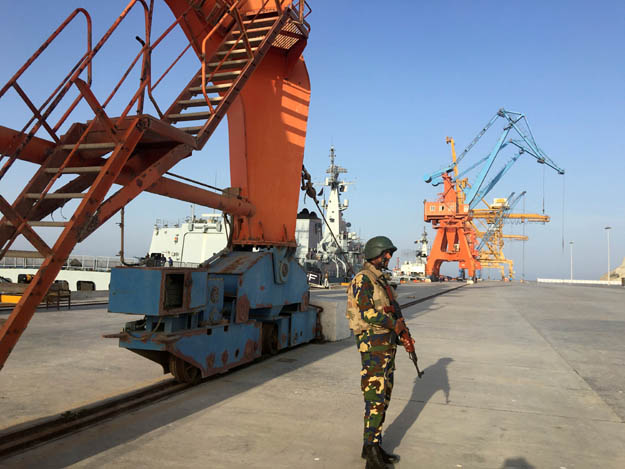 ---
ISLAMABAD: Imagine a road trip in the year 2025 along a super transnational highway that stretches from Kazan to Karachi. And this is not some 'ghost' highway but a 'living' corridor that passes through at least 50 economic centres – thanks to Chinese President Xi Jinping's foreign policy initiatives which aims at connecting China with Eurasia.

From May 14 to 15, the first Belt and Road Forum for International Cooperation will provide a platform for Beijing to pitch its vision of One Belt, One Road (OBOR) and address concerns of other countries like the United States (US) and Japan.

Freight train to leave Britain on long haul for China

The US considers the initiative to be a direct manifestation of China's economic slowdown and Beijing's foreign policy to assert regional leadership – hence labelling it as the "Chinese Marshall Plan". However, this is a false narrative that China wants to challenge Washington's global leadership as US bureaucrats are hardwired to think in 'geopolitical' terms, whereas Chinese think in 'geo-economics' terms. In fact, if Washington and Tokyo decide to join the OBOR, it will be a win-win situation for all – though till date only the Chinese are winning.

This is evident from the success story of China's Asian Infrastructure Investment Bank (AIIB) which is now the world's largest multilateral development bank after the World Bank.  AIIB was a consequence of Beijing's frustration with the fact that the Asian Development Bank (ADB) is heavily dominated by Japanese diplomats. Now, AIIB has more members than the ADB, including India along with five G7 nations.

What it holds for Pakistan

Nevertheless, as the OBOR initiative in general and China-Pakistan Economic Cooperation (CPEC) in particular will take more than two decades to complete, you may question if the 'superhighway' will still be relevant by that time? Will it connect communities with natural resources to industrial zones, and if it does, will countries like Pakistan end up exporting raw goods to buy value-added finished goods back from China with an unfavourable balance of trade?

Or if you rephrase it: Will all roads of wealth (and power) lead back to Beijing?

Yes, OBOR has a geopolitical subtext, but it is also clear that staying away from an initiative that encompasses 100 countries with 70% of world population will not help address any geopolitical concerns. Projects like CPEC appear to be an infrastructure-led economic development model – something that has worked for the Europeans during the industrial age.  So, any country with a specialised industry or a manufacturing base will definitely benefit from the shorter routes to new markets.

However, consumer economies need to take it with a pinch of salt and should handle the matter of tariff issues and transport fees with caution. They should also seek principled clarity on the nature of infrastructure assets created from OBOR investments.

India, Iran involvement

Drawing parallels to the OBOR, India and Iran are looking forward to activate the North-South Transport Corridor (NSTC), which will connect India with Russia and Europe via Iran and Azerbaijan. Given the changing scenarios, Iran has now stopped funding Islamic parties in Azerbaijan, whereas Russia now considers Azerbaijan as a strategic trade partner.

One Belt-One Road summit: New deals extravaganza as Nawaz meets Xi

What does it imply for CPEC? If Iran, Afghanistan and India join CPEC, it will bring stability in the whole region and the practice of cross-border proxy wars will end. Iranian leadership already emphasised the need of cooperation between China, Pakistan, Iran and Russia for regional stability. So, if Tehran decides to be a part of both OBOR and NSTC corridors, it will become the most important strategic bit, only next to China, in cracking the puzzle of an integrated Europe and Asia.

The writer is a Cambridge graduate and is working as a management consultant

Published in The Express Tribune, May 15th, 2017.

Like Business on Facebook, follow @TribuneBiz on Twitter to stay informed and join in the conversation.