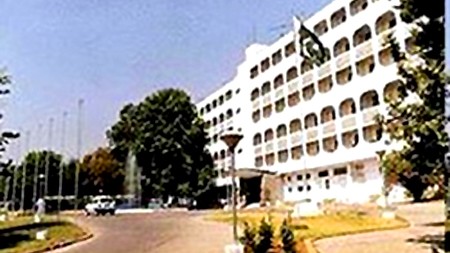 ---
ISLAMABAD: The foreign office on Monday summoned officials from the US embassy to protest over delays in issuance of visas to 35 Pakistani diplomats.

But both sides are denying this meeting ever took place. Officials privately said that the Foreign Office summoned US embassy's political secretary Brian D Hunt and Head of Visa Section Chris Richard. The foreign office said that the US officials listened to the concerns shown by the foreign office but did not give a time frame for the issuance of the visas. Visas for the diplomats and their family members have been pending for the last six months, although they are usually issued in two weeks.

Officials added that the diplomats waiting for the visas belong to the accounts department and the Foreign Office. However, Foreign Office Spokesperson Abdul Basit denied this has happened: "The two alleged officials from the US embassy were not summoned by the foreign office today." The embassy is not deliberately delaying the visa process, he added.The spokesperson further said that during the last five months, the US had requested for 850 visas of which 700 had been issued.

He also rejected claims of 150 US marines being denied visas. "There are hundreds of people in the embassy and I have checked with the concerned officials- Ambassador Anne Paterson, Deputy Chief Mission, Management Consular and Consul Generalwho confirmed they did not go over to the Foreign Affairs Ministry today," said official spokesperson of the US Embassy, Richard Snelsire. "There could be possibilities of someone from the ministry calling officials at the embassy, but as far as I know no one was over at the ministry," he added. Snelsire further said that the US embassy is in contact with Pakistani officials regarding delays in visas.

Meanwhile, the foreign office has also delayed issuance of visas to150 US defence officials. The foreign office had asked the US authorities to give details of the defence officials and their purpose in Pakistan. Earlier, the foreign office had stated that the luggage of US diplomats will go under routine checking at all Pakistani airports but the diplomatic baggage will remain exempt from checking.

Foreign Office officials also confirmed that the US has problems with Pakistan's procedural requirements and a high official, while talking to The Express Tribune said that the FO was compelled to take strict measures in this regard because US officials were using the Interior Ministry for the extension of their visas and completely by-passing the Foreign Office.

Published in the Express Tribune, May 18th, 2010.