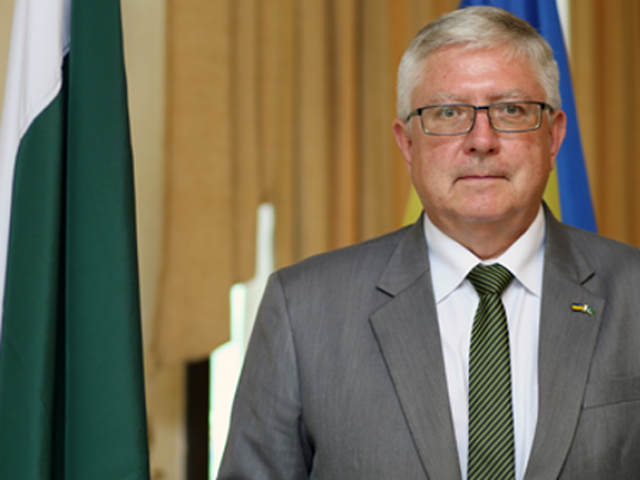 ---
In Pakistan, the government and people of Ukraine have found a reliable and practical friend.

This was stated by the Ukrainian Ambassador Volodymyr Lakomov during a lecture by Ukranian academician and foreign affairs specialist Dr Olena Bordilovska at the Sustainable Development Policy Institute (SDPI) on Thursday. Lakomov said that the relationship between Kiev and Islamabad, especially in the fields of trade and economy as well as in technological and cultural exchanges could be significantly enhanced and advanced in the near future.

Ukraine envoy stresses cooperation

Earlier, while presenting a lecture on 'Foreign Policy of Ukraine: the main principles and current challenges', Dr Bordilovska said that Ukraine faced tremendous problems in the aftermath of Russian aggression leading to the annexation Crimea.

These issues included halting Ukraine's economic growth, slowing trade apart from the loss of thousands of lives. The Ukrainian academician further said that while her country believed in a peaceful neighbourhood, it had unfortunately faced aggression and had got embroiled in a territorial dispute.  This, she said, had compelled Kiev to rebuild its armed forces.

While looking to strengthen its European identity, Dr Bordilovska said Ukraine found the European Union and the North Atlantic Treaty Organisation (NATO) as reliable partners for its development and to respond to its security concerns.

Ukraine willing to assist Pakistan's development

Despite that, Dr Bordilovska insisted that Ukraine wanted to establish good relations with Russia on the basis of mutual cooperation and partnership as 'equal partner'. She, however, lamented that this goodwill had not been reciprocated by Moscow. While talking about Pakistan-Ukraine ties, she said that there were many avenues where mutual cooperation could be enhanced and strengthened including trade, investment, defence technology and education.

SDPI Deputy Executive Director Dr Vaqar Ahmad said that the public and private sector of Pakistan should explore opportunities to enhance exports to Ukraine.

Published in The Express Tribune, May 5th, 2017.