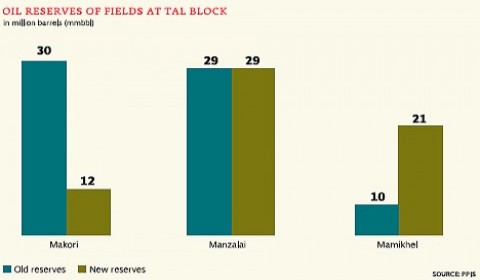 ---
KARACHI: Pakistan Oilfields Ltd's (POL) earnings are likely to fall seven to nine per cent because of lower oil prices and a drop in reserves at Makori oil field, according to an analyst.

Makori field's oil reserves have been lowered while Mamikhel and Maramzai reserves were on the upside, according to the latest Pakistan Petroleum Information Service reserve update for fields in the Tal block. Pakistan Petroleum Ltd's (PPL) earnings are also expected to fall two to three per cent while impact on Oil and Gas Development Company (OGDC) is nominal, said KASB Direct analyst Mohammad Fawad Khan in his research report. Oil prices have dropped mainly due to new discoveries of oil, analyst said.

Makori field oil reserves have been lowered from 30 million barrels (mmbbl) to 12 million barrels and gas reserves from 0.7 trillion cubic feet (tcf) to 0.2 tcf, data shows. Mamikhel and Maramzai reserves, included in the data for the first time, were on the upside. Addition to these reserves offset the decline in Makori reserves. POL has a 21 per cent stake in the Tal block, PPL has 28 per cent and OGDC has 28 per cent. Tal block exploration potential not over The Tal block has delivered four successful discoveries from the last seven completed attempts since 2001, an impressive 57 per cent success ratio.

These discoveries have raised the potential around the Tal block for more discoveries. MOL, the operator in the field, has planned to drill two more exploration wells. It is expected that the above mentioned discoveries in the Tal block will add significant reserves of oil and gas in the north of the country which has historically been a gas-prone area. The Tal block is located in the Khyber-Pakhtunkhwa and is spread over districts of Kohat, Karak, Hangu and Bannu and some areas of North Waziristan and Orakzai agencies.

Published in the Express Tribune, May 18th, 2010.
COMMENTS
Comments are moderated and generally will be posted if they are on-topic and not abusive.
For more information, please see our Comments FAQ