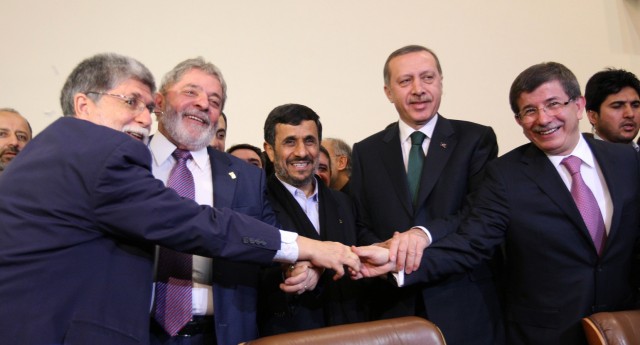 ---
PARIS: Western powers kept the pressure on Iran Monday to reach an agreement with the United Nations over its nuclear programme or face more sanctions, despite a deal with Tehran brokered by Brazil and Turkey.

The deal had appeared to mark a breakthrough in long-stalled discussions over the refuelling of the research reactor. However, France, Germany, Britain, the US and other Western diplomats did not relax their demands on Iran, seeing the Islamic republic as still causing serious concern. "Let's not be duped by this," French foreign ministry spokesman Bernard Valero said. "A solution for the medical reactor, while necessary, would in no way resolve the problem posed by the Iranian nuclear programme. "The exchange of uranium that is envisaged amounts to a confidence gesture, a side issue," he told reporters.

France's Foreign Minister Bernard Kouchner said that the UN nuclear watchdog, the International Atomic Energy Agency (IAEA), must be the first body to respond to Iran's agreement to send its nuclear fuel to Turkey for enrichment, a view echoed by the German government. "It of course remains important that Iran and the IAEA reach an accord," said Germany's deputy government spokesman Christoph Steegmans, adding: "That cannot be replaced by an accord with other countries." President Barack Obama's spokesman, Robert Gibbs reiterated the general Western sentiments saying: "Given Iran's repeated failure to live up to its own commitments, and the need to address fundamental issues related to Iran's nuclear program, the US and international community continue to have serious concerns." "While it would be a positive step for Iran to transfer low-enriched uranium off of its soil as it agreed to do last October, Iran said today that it would continue its 20 per cent enrichment." Western diplomats close to the IAEA also said the deal did not remove the case for further UN sanctions against Iran.

"They're not in trouble over the TRR (Tehran Research Reactor) deal. So fixing the refuelling for that reactor is not going to put them straight in the eyes of the international community," one Western diplomat said, speaking on condition of anonymity. Iran is already under three sets of UN sanctions for refusing to halt its uranium enrichment, which the West fears hides a covert nuclear weapons programme.

Tehran insists its nuclear programme is for peaceful purposes and will go ahead with enrichment, even after signing the fuel deal. For the Israelis, who consider Iran's nuclear drive a major threat to their country, the deal was nothing short of "manipulation". "The Iranians have manipulated Turkey and Brazil," a senior Israeli official told AFP on condition of anonymity.

Published in the Express Tribune, May 18th, 2010.