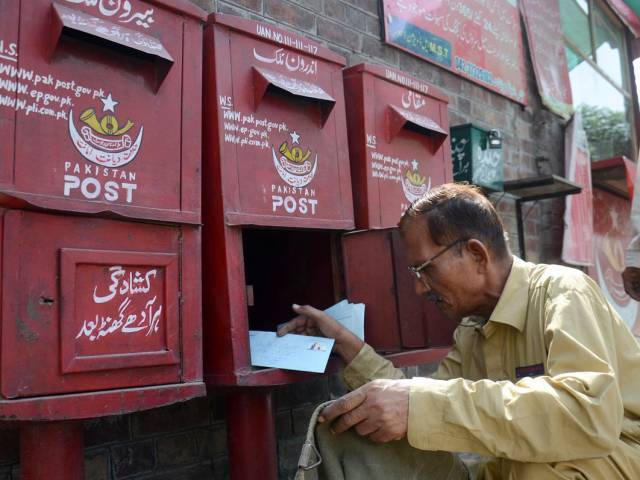 ---
ISLAMABAD: A panel of parliamentarians on Tuesday urged the Pakistan Post Office Department (PPOD) to develop a mechanism like the clearing house in the State Bank of Pakistan to settle the accounts of different General Post Offices (GPOs).

During a meeting of the National Assembly Standing Committee on Communication, held at the Parliament House on Tuesday, the latest report of the Auditor General was discussed. The report focused on corruption, fraud and misappropriation during the last five years in Pakistan Postal Services apart from the illegal occupation, encroachment on Pakistan postal services property.

Taking serious notice of PPOD properties being encroached, it observed that over 150 properties of PPOD had been grabbed by members of the land mafia. Similarly, in Lahore, over 100 PPOD properties had been encroached by land grabbers.

The committee members asked the PPOD to hire lawyers to wrest control of its buildings from the land mafia. But the meeting observed that PPOD did not have any money to hire a lawyer. Hence, the department has to depend upon the lawyer being provided by law division.

The committee members asked why a large amount of Rs50 million had been spent on restoring the Murree Post Office after being told that the money had been spent without completing requisite processes. While examining fraud cases and any subsequent action taken by the Pakistan Post administration, the committee observed that there was no mechanism in the department to reconcile their accounts.

The committee directed that the Pakistan post office department should develop a mechanism, like the clearing house of the State Bank to settle accounts of different GPOs.

The committee decided to discuss the performances of the postal life insurance at its next meeting.

Losses recuperated

Of the Rs624.46 million embezzled, the Pakistan Postal Services had recovered Rs142 million over the past five years.

The committee was told that money had been recovered from 241 reported cases during this period.

The members were told that in 2012, 43 cases were registered where Rs158 million was embezzled. Of this, Rs15.74 were recovered.

In 2013, 52 cases were registered of Rs58.26 million embezzled. Of this Rs29.09 million was recovered.

In 2014, 36 cases were registered for embezzlement of Rs90.70 million, of which Rs12.2 million was recovered by the department.

Subsequently, 47 cases were registered in 2015 for embezzlement of Rs94.1 million of which Rs28.02 million was recovered.

In 2016, 63 cases were reported in which Rs223.4 million were embezzled. The department recovered Rs 57.5 million.

The committee was informed that last Departmental Accounts Committee (DAC) was held on January 1, 2015, and the department had prepared a compliance report of their objections but the committee had yet to convene to review it.

(With additional input from APP)

Published in The Express Tribune, May 3rd, 2017.