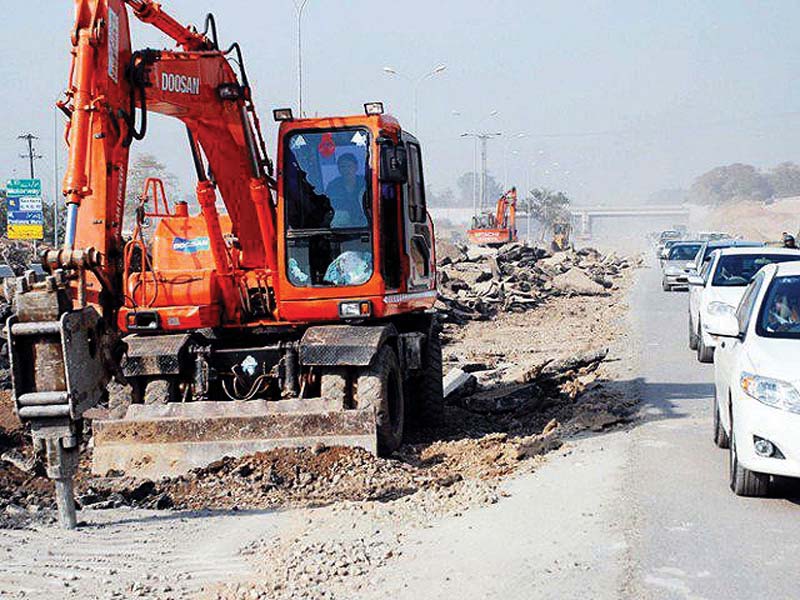 ---
KARACHI: Perturbed by the broken patches, tyre marks and uneven road surface appearing on the newly-built M-9 Karachi-Hyderabad Motorway, the Pakistan Peoples Party (PPP) submitted an adjournment motion in the National Assembly secretariat on Thursday to discuss the matter.

PM Nawaz inaugurates completed section of Karachi-Hyderabad Motorway

PPP MNAs Naveed Qamar, Muhammad Yousif Talpur, Shazia Marri, Abdul Hakeem Baloch, Ghulam Mustafa Shah, Aijaz Hussain Jakhrani, Mir Munawar Ali Talpur and Shahida Rehmani tabled the resolution, saying that the motorway's deterioration is causing grave risks to the lives of thousands of commuters using the road.  The adjournment was tabled by the party's MNAs

The adjournment motion moved under Rule 110 of the Rules of Procedure and Conduct of Business in the National Assembly, 2007, read, "It is strange that broken patches, tyre marks and unevenness of the surface have appeared on the newly-built motorway, especially in the area of three kilometres from Lonikot Toll Plaza. The federal government and authorities concerned have failed to fulfil their responsibility to ensure the quality and standard in the construction of this motorway, thus causing massive loss to the exchequer and creating more difficulties for the commuters who have already suffered a lot due to delayed completion of the project. This is a serious matter and warrants immediate attention of the House."

Done and dusted: Half of Karachi-Hyderabad motorway complete

Talking to The Express Tribune, Hakeem Baloch said the work has been carried out in haste without taking quality into consideration. "Since day one, we were making hue and cry over substandard development but no one paid attention to our grievances," he said, adding that the prime minister inaugurated the 75-kilometre portion in haste, fearing a decision in the Panama case against him. "We will not only discuss this issue but will protest against the government's ill-planning and waste of public money," he remarked.

Meanwhile, Tufail Ahmed Sheikh, the general manager of National Highways Authority who deals with highways and motorways, refuted reports of the motorway caving in and said, "A few members of the National Assembly's standing committees visited the motorway on April 24. No one has raised such objection."

When his attention was diverted to the videos of the damaged road being aired on TV channels, he said the Frontier Works Organization (FWO) is constructing the road and would be in a better position to explain. Meanwhile, Colonel Rashid of FWO, who works as project director, was of the view that they have asked the engineer concerned to submit a report to them, which will be shared with the media within a few days. "At this moment, I cannot comment on the issue," he said.