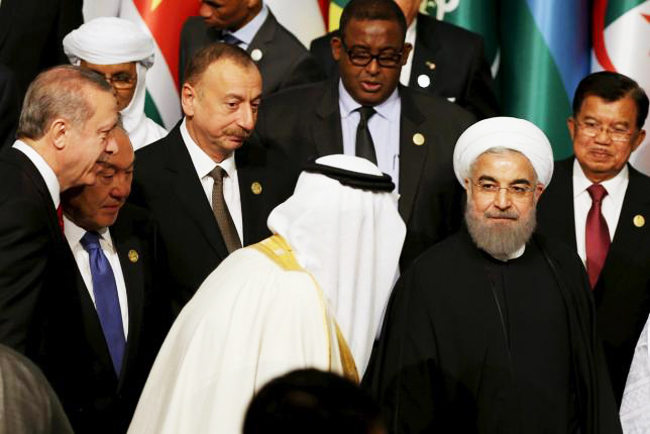 ---
Regardless of the controversies that surround the nascent Saudi-led military coalition against terrorism, the idea of putting together a united opposition of Muslim countries to defeat terror groups is an important one. Today, when terrorism is not just limited to Iraq, Afghanistan, Pakistan, and Syria, combined efforts to address the issue seems a logical strategy.

Govt to allow Raheel Sharif to lead Saudi-led alliance

No doubt, the announcement of the anti-terrorism alliance by Saudi Arabia two years ago took several countries, including Pakistan, by surprise, but at least 39 Muslim nations announced their willingness to join it right away. Today, the membership stands at 41. Although details about the structure and functions of the alliance are still unknown, the coalition – sometimes referred to as Islamic Military Alliance to Fight Terrorism – is the need of the hour for several reasons.

First, terrorism is an international phenomenon with no respect for boundaries. The militant network is spread across countries with hideouts, sources of funding, training grounds and target sites all in different places. In such a situation, zero coordination between Muslim countries allows terrorists to continue with their nefarious plans with impunity. If security forces of the affected countries combine their counterterror efforts, terrorism can be defeated effectively.

Secondly, militant groups have proven they cannot be trusted. As shameful as it is to admit, countries across the Muslim world have used (and some continue to do so) terrorism as a tool to further their agenda. But recently, it has become all the more evident that the policy of using proxies can come back to bite you. In this regard, a military alliance between Muslim countries will encourage a relationship of openness and honesty between the stakeholders and create an environment for addressing differences without violence and hostility.

Thirdly, over the years, extremist groups have hijacked the narrative of Islam associating violence with religion. As Muslim countries lack a counter argument, a military alliance against terrorism will provide a platform to debate and communicate what Islamic nations stand for. This will not only help with discouraging the misuse of religion for terror recruitment but will also help in building trust between the Muslim and non-Muslim world.

Moving forward

Unity between Muslim countries is a prerequisite for the alliance to work and this brings us to the issue of conflict between Iran and Saudi Arabia – the self-proclaimed leaders of the Sunni and Shia sects.

'Saudi-led alliance not aimed against any country'

The two regional heavyweights have been at loggerheads since the Iranian Revolution of 1979, which saw a pro-Western leader toppled and Shia clerics taking over. The following years witnessed Iran supporting Shia political parties and militias across the Middle East. At the same time, Saudi Arabia began strengthening ties with Sunni governments and propagating its extreme version of Islam in those countries. Since then, the two countries have almost always been on the opposite sides of regional conflicts such as in Iraq, Syria and Yemen; and can be blamed for complicating the disputes and making resolution difficult.

Friendly ties between these two countries are important if the military coalition of Muslim countries has to succeed. While Iran is not formally part of the alliance as yet, efforts are afoot for easing tensions and addressing concerns. In this regard, addressing certain issues first can act as confidence building measures.

Firstly, Iran and Saudi Arabia should be convinced to avoid promoting a particular sect in the regional countries. Both of them should keep their ideologies within the boundaries of their countries and stop funding specific religious seminaries or organisations in foreign countries to increase their influence.

Secondly, they should dispel the impression of being in a proxy war in the Middle East. Both the countries should agree on taking action against all militants groups despite their sectarian affiliation.

Pakistan to assuage Iran's fears on Raheel's role

Thirdly, Iran, Saudi Arabia and other Muslim countries should agree to form a council to supervise the anti-terrorism coalition with representatives of all the participating members. This will make the alliance a democratic endeavour with no one country holding more powers.

Imdad Hussain is an Islamabad-based journalist specialising in diplomatic and security issues.