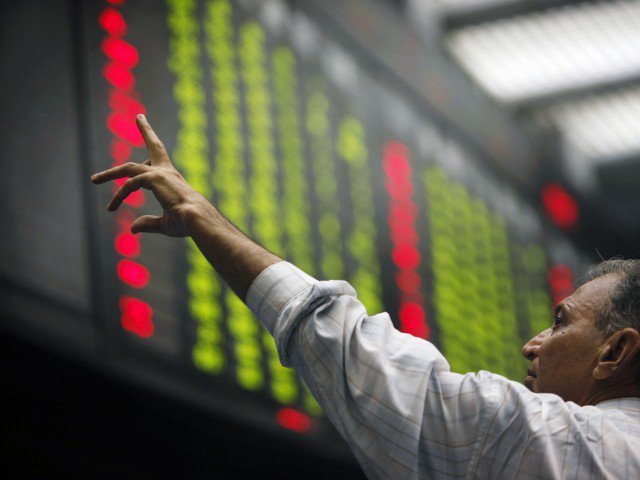 ---
KARACHI: After four successive days of ending in the green, the KSE-100 Index plunged over rumours regarding the Panama case verdict that could be announced next week, amid intense profit taking and panic selling from investors.

At close on Thursday, the Pakistan Stock Exchange's (PSX) benchmark index recorded a fall of 506.68 points or 1.05% to end at 47,950.58.

Elixir Securities stated that the market opened positive but failed to carry momentum as oil stocks sunk in early trading in line with global crude prices.

"Sentiments of the wider market were also hit hard on news of the government's decision to divest its 18.3% stake in Mari Petroleum (MARI PA -5%) as it ignited concerns of a future liquidity overhang," said analyst Ali Raza.

Powered by oil, KSE-100 marches upwards

"KSE-100 Index slipped and remained in the red during the entire day's trading where the final ninety minutes also saw increased selling pressure reportedly from local institutional investors to meet redemptions, while rumours and gossips hinted at the announcement of Panama case verdict as early as next week also likely spooked investors.

"On results front, Engro Foods (EFOODS PA -2.3%) hit a four-month low after announcing disappointing March quarter earnings while Pakistan Telecom Co (PTC PA -1.18%) too came under sellers' radar after a mediocre result," he added.

Meanwhile, JS Research analyst Nabeel Haroon said the market opened on a positive note but failed to sustain as investors flocked to realise profits from previous trading sessions.

"Decline in the market was led by Banking and Exploration and Production (E&P) sectors as they lost value to weigh down on the index," he said.

KSE-100 finishes in the green, settles above 48,000

"(HBL -2.08%) and (UBL -1.33%) remained the major index movers in the banking sector whereas in the E&P space, (OGDC -2.22%) and (POL -2.10%) lost value to close in the red zone, as crude oil prices slid to consolidate around $53/bbl level.

"(MARI -5%) in the E&P sector also came under the hammer on the back of the news that government intends to sell off 18.3% stake in the company through a secondary public offering. (EFOODS -2.25%) lost value to close in the red zone as the dairy company declared below expectation result," he added.

Overall, trading volumes rose to 233 million shares compared with Wednesday's tally of 217.8 million.

KSE-100 ends positive, but participation remains thin

Shares of 386 companies were traded. At the end of the day, 96 stocks closed higher, 269 declined while 21 remained unchanged. The value of shares traded during the day was Rs12 billion.

Aisha Steel Mill was the volume leader with 20 million shares, losing Rs0.94 to close at Rs24.4. It was followed by Lotte Chemical with 17.1 million shares, gaining Rs0.29 to close at Rs11.16 and Sui South Gas with 14.2 million shares, gaining Rs1.65 to close at Rs41.06.

Foreign institutional investors were net sellers of Rs320 million during the trading session, according to data maintained by the National Clearing Company of Pakistan Limited.
COMMENTS
Comments are moderated and generally will be posted if they are on-topic and not abusive.
For more information, please see our Comments FAQ