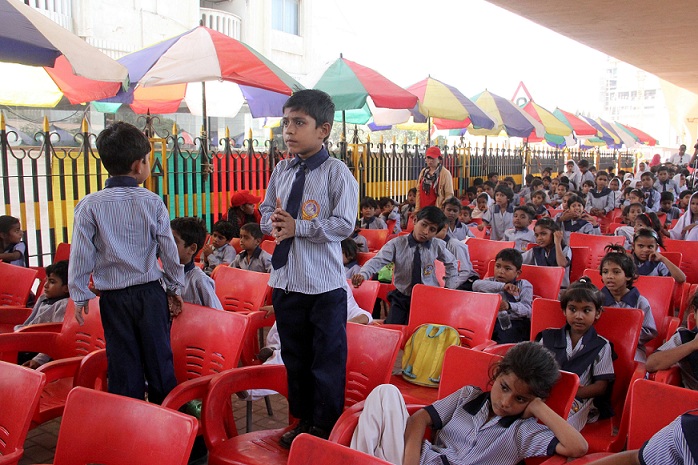 ---
KARACHI: More than 400 students of Footpath School got to showcase their singing and dancing talents as they took a break from studies and celebrated International Day for Street Children on Wednesday.

The students were celebrating at their school campus located under the Bahria Flyover in front of Abdullah Shah Ghazi's shrine, which is run by Ocean Welfare Organisation Pakistan. "We are just letting them enjoy by dancing or singing and they can do what they want to," said Syed Anfas Ali, the founder of the school. The students cheered for their class fellows who performed in groups.

Street children: Streets of Pakistan littered with tales of downtrodden

The Footpath School has a total of 600 students, consisting mainly of street children who used to sell flowers, tissue papers and clean windscreen of cars on traffic signals to make a living. The school has around 15 teachers who teach the students from 8am till 2pm.

"These children are the real asset of the country and by teaching them we are actually building up a nation," said Sidra Iqbal, who has been teaching at the school since last three months.

The students have been provided with uniforms and shoes by the school, while they also get food every day. "If these children do not come here and study, they will end up roaming in the streets begging or selling something," Ali said, adding that here at the school the students can at least learn something.

Atiqa Anjum used to help her mother as a maid before she joined the school two months ago. "My house is in Neelum Colony. Every day I walk to the school and really enjoy studying," she said, while cheering for her class fellows who were giving a dancing performance.

Another student, Hamza Khan, who used to work at a welding shop, wants to become an electrical engineer in the future. "I have four younger siblings and my father is a vegetable vendor," he said. "I want to become an engineer and I can only achieve that by studying and working hard."