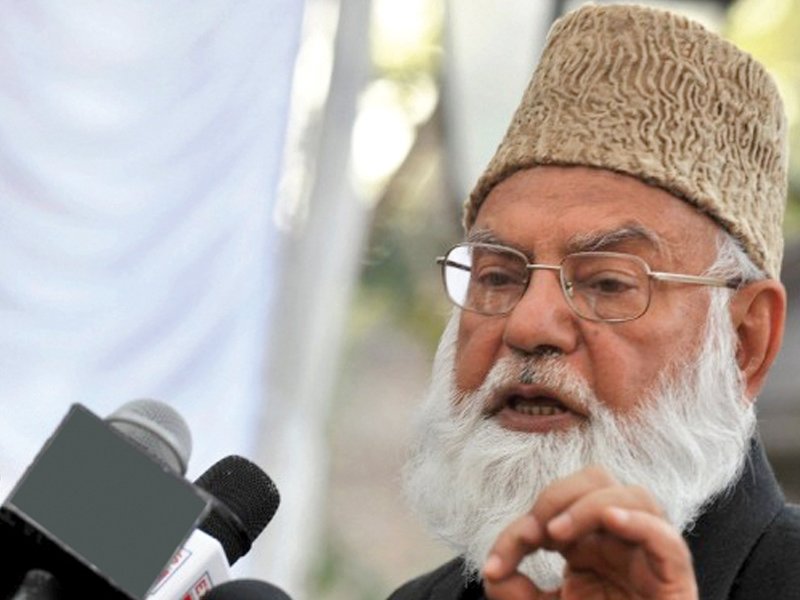 ---
Former Jamaat-e-Islami (JI) chief, the late Qazi Hussain Ahmed had opposed US action in Afghanistan after the September 2001 attacks, claims Ahmed's grandson Muhammad Ibrahim Qazi in a statement on Tuesday.

His comments came a day after former political advisor to US Embassy Amanullah Khan claimed in his book that the former JI chief had assured the then US envoy that his anti-American comments were only for public consumption.

Qazi, however, said that after the 9/11 attacks, the US Ambassador in Islamabad used to frequently meet with JI's leadership to gain their trust and support.

Being the representative of Jamat-e-Islami in Islamabad, Ahmed also met with the then ambassador Nance Powell at the US embassy to offer condolences for the 9/11 attack.

In that meeting, Qazi said, Ahmed was accompanied by other senior officials of the party including JI's International Affairs chief Abdul Ghafoor Aziz.

During the meeting, Powell reportedly sought JI's assistance in achieving peace and eradicating terrorism.

Qazi said that the envoy pushed JI to support America's decision and to not retaliate.

However, Ahmed clearly told the ambassador that America would only have JI's support if it did not attack Afghanistan, Qazi said.

In the event of an attack on Afghanistan, Ahmed warned that JI would stand against America. Moreover, Qazi said, Ahmed tried to explain to the ambassador how an attack would benefit neither America nor Pakistan or Afghanistan.

The entire Muslim community too would retaliate to such an attack, Ahmed told the ambassador.

However, Qazi claimed, the ambassador did not receive this news well and the meeting ended on a sour note.

Qazi further said that the ambassador was too shallow to see the delegation off properly and left the premises before the JI leaders. After waiting for a very long time, the JI leaders requested the embassy staff to summon their cars so that they could leave.

After that incident, Qazi claimed, the ambassador did not meet any of the JI leaders for nearly a decade.

Published in The Express Tribune, April 12th, 2017.