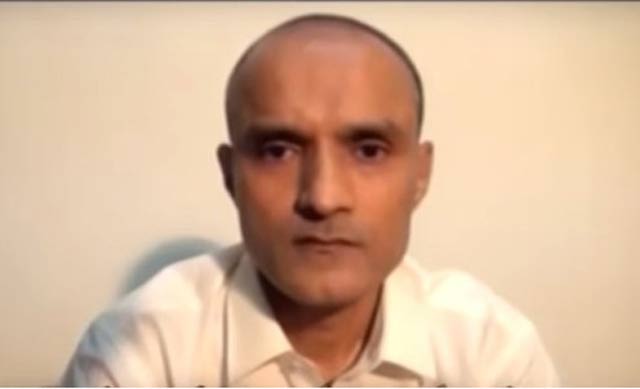 ---
Indian Foreign Minister Sushma Swaraj on Tuesday said New Delhi will go "out of the way" to save Kulbushan Jadhav from death row.

The Indian spy was awarded death sentence on Monday after being tried through the Field General Court Martial (FGCM) under the Pakistan Army Act (PAA).

Addressing Jadhav as "a son of India", Swaraj warned the Pakistani government "to consider the consequences for our bilateral relationship if they proceed on this matter," Hindustan Times quoted the Indian external affairs minister as saying before the Parliament.


Will go out of the way to save him, wo poore Hindustan ka beta hai:Sushma Swaraj in Rajya Sabha on Kulbhushan Jadhav pic.twitter.com/2h9ICrtqJm

— ANI (@ANI) April 11, 2017


"Charges against Jadhav are concocted," she added. "There is no evidence of wrong-doing by him."

Self-confessed Indian spy awarded death sentence

Further addressing the Parliament on Tuesday, Indian Home Minister Rajnath Singh said Jadhav has a valid Indian visa, hence cannot be categorised as a spy.

He said, "We [the Indian government] will do everything possible to get justice" for Kulbushan Jadhav, The Times of India reported.

On Monday, Jadhav – who was caught from Balochistan last year and who has confessed to fomenting terrorism in Pakistan – was awarded the death penalty in an unprecedented decision that immediately sparked a bitter diplomatic spat between the two hostile neighbours.

Identified as Kulbushan Sudhir Jadhav, the Research and Analysis Wing (RAW) agent had been operating in Pakistan disguised as Hussein Mubarak Patel and was tried on charges of espionage and sabotage activities in Pakistan.

Jadhav was arrested on March 3 last year during a counter-intelligence operation from the Mashkel area of Balochistan. A few weeks later, the army had released his recorded confessional statement in which he had admitted to have been working for RAW to stoke unrest and instability in Pakistan.

Kulbhushan Jadhav will not be extradited, Sartaj assureslawmakers

In a six-minute video shown on the national media, Jadhav confessed that he had been tasked with creating unrest in Balochistan and Karachi, to which he had apparently made several visits under a fake identity since 2003. India denies Jadhav was a RAW agent but admits that he was a retired naval officer.

According to the ISPR, Jadhav has also confessed before a magistrate and the court that he was tasked by RAW to plan, coordinate and organise espionage and sabotage activities aiming to destabilise and wage war against Pakistan by impeding the efforts for restoring peace in Balochistan and Karachi.

While majority in Pakistan endorsed the death sentence, the reaction from India was swift and angry.

Just hours after the military's announcement, Pakistan's High Commissioner Abdul Basit was summoned by the Indian foreign secretary and was issued a demarche, calling Jadhav's trial 'farcical.'

"The proceedings that have led to the sentence against Shri Jadhav [Jadhav] are farcical in the absence of any credible evidence against him. It is significant that our High Commission was not even informed that Shri Jadhav [Jadhav] was being brought to trial," said India's Ministry of External Affairs.

The strongly-worded demarche further said that if due course of law was not observed in the case, India would regard Jadhav's execution as murder in the first degree. "If this sentence against an Indian citizen, awarded without observing basic norms of law and justice, is carried out, the government and people of India will regard it as a case of premeditated murder," it said.

The Pakistani envoy, however, strongly rejected India's protest defending the death sentence.

Basit reportedly told the Indian foreign secretary that "on the one hand you perpetrate terrorism in Pakistan and record protest against us on the other. We have not done anything wrong. A terrorist must be punished," Basit further said.

Pakistan considered the arrest of Jadhav as a living proof of Indian state agencies' involvement in creating unrest in the country. Islamabad also submitted dossiers to the United Nations containing evidence of India's involvement in terrorism based on Jadhav's activities.

Tehran probing whether Jadhav crossed border illegally

Security officials claimed that based on the information extracted from Jadhav, a major crackdown was also launched against the RAW network in Pakistan.

Pakistan and India have detained each other's nationals on charges of espionage in the past but this is the first time in the chequered history of Indo-Pak relations that any serving military official was arrested and handed down the capital punishment for spying.

Defence analysts and former diplomats said the decision to sentence a RAW agent would send a clear message to India that Pakistan would not accept state-sponsored terrorism from the neighbouring country.

Many here believe that Jadhav was working under India's 'offensive defence' doctrine authored by National Security Adviser Ajit Doval. The doctrine envisaged exploiting Pakistan's internal weakness while at the same time backing militant groups to foment violence in the country.

Eight Indian spies masquerading as diplomats outed

In his confessional statement, Jadhav had admitted that he was working directly under the RAW chief, further vindicating Pakistan's stance of India's involvement in subversive activities. The development came at a time when relations between Pakistan and India are at their lowest and is likely to further flare up the temperatures.
COMMENTS (58)
Comments are moderated and generally will be posted if they are on-topic and not abusive.
For more information, please see our Comments FAQ