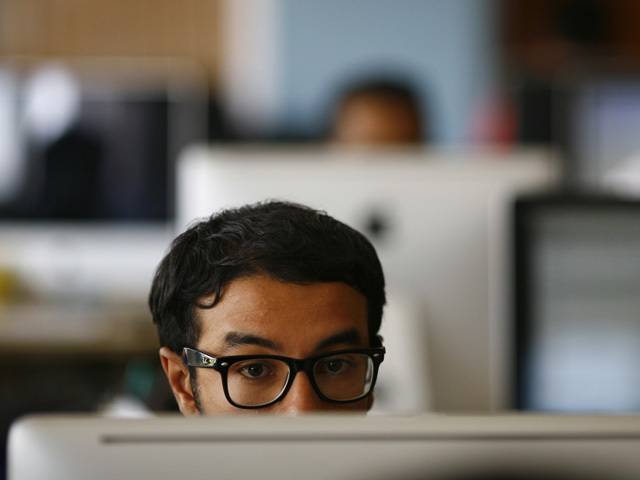 ---
ISLAMABAD: It is well known that Pakistan is one of the top four countries with the highest number of online freelancers. Therefore, the recently launched e-Rozgar scheme in Punjab is a step in the right direction.

In his newspaper article, the Punjab IT Board chairman quoted a conservative figure of 150,000 Pakistani freelancers, earning combined revenue of roughly $1 billion. This fairly high number is despite the fact that so far the phenomenon of online freelancing in Pakistan has grown without any significant government support.

Want to work but not in an office? Try CoPakistan

One hopes that e-Rozgar centres would be the proverbial 'first drops of rain'.

Hurdles to e-commerce

A big barrier to reaching the immense potential of online freelancing is the lack of literacy – both digital and conventional. Digitally literate online freelancers can operate even outside such centres with their smartphones. Therefore, providing basic digital literacy in schools is even more important. It will help not only online freelancing, but other e-commerce activities.

The online freelance market is a byproduct of e-commerce, which has various formats and business models. The one getting a lot of attention lately is the so-called 'sharing economy' (also called 'collaborative consumption').

Sharing economy is not really new. What is new is the internet's ability to let everyone communicate easily with a very wide audience. The sharing economy's business models thus leverage direct access to consumers, made possible by the internet, reducing business costs.

In sharing economy business models, typically the entire process is managed by a managing company (like Uber), which is not the actual service provider. Instead, the company is a facilitator, making safe and easy transaction possible.

To take care of the trust deficit among strangers, the managing company puts in place an independent bi-directional post-transactional review system for both sides to rate (or review) the other side.

Today, there are hundreds, perhaps thousands, of sharing examples. Starting from collaborative online encyclopedias (Wikipedia), to sharing videos (YouTube), pictures (Instagram), cars (Uber, Careem), accommodation (AirBnB), rides (Lyft), bikes (Liquid, formerly Spinlister), household items (Snapgoods), even driveway spaces (ParkAtMyHouse), and peer financing, or crowd funding (Kickstarter) and so on.

Sharing economy

One reason why sharing economy is growing rapidly is that today's youth are connected individuals, who have embraced broadband internet and try to get the latest smartphones that they can afford. However, most economies, including ours, are not ready for such disruptive new business models.

The current legislative and regulatory regimes were not designed for sharing economy. The issues which Uber and Careem are facing with the provincial governments in Pakistan are just the beginning. Many more similar challenges will come up in the near future.

This is not just in Pakistan. According to Digital Watch, there are court cases and rulings involving Uber in over 25 countries, most of all in the US itself. But as is always the case, things will surely settle down and the march of the technology will continue.

How this Pakistani built a billion-dollar startup

Sharing economy contributes immensely towards the growth of Small and Medium Enterprises (SMEs) in more ways than one.

For instance, all small businesses in the early years operate on tight budgets. Cash flow is one of the reasons that a large number of startups fail. Anything to control cash flow makes survival more likely.

This includes ensuring that money is saved by not having to buy things that you need and turning your unused assets into cash. The sharing economy makes it simple to share physical as well as non-physical goods and services using the internet. A digital market is, therefore, an excellent opportunity for economic growth.

Freelancing and sharing economy are only two tips of the iceberg that e-commerce is. There is a lot more (like online shopping). In 2016, the global e-commerce market volume is estimated to have reached $22 trillion, growing much faster than the conventional commerce.

All this creates enormous employment opportunities, particularly for the bulging youth population. According to an agreement signed with Tevta Punjab in August last year, Careem is getting 100,000 unemployed youth trained in the next three years (incidentally over 80% of Careem's drivers in GCC countries are Pakistanis – who obviously too contribute to Pakistan's economy through foreign remittances).

After ban on billboards, adverts find a way to move

It is time that we realise the colossal benefits that the internet and ICTs can bring to our economy and start encouraging growth of ICTs - rather than taxing heavily for short-term cash generation.

The writer is former CEO of the Universal Services Fund and is providing ICT consultancy services in several countries of Africa and Asia

Published in The Express Tribune, April 10th, 2017.

Like Business on Facebook, follow @TribuneBiz on Twitter to stay informed and join in the conversation.
COMMENTS (6)
Comments are moderated and generally will be posted if they are on-topic and not abusive.
For more information, please see our Comments FAQ