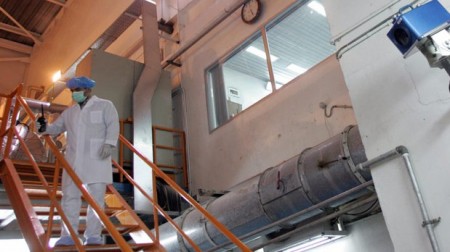 ---
TEHRAN: Iran inked a nuclear fuel swap deal on Monday under which 1,200 kilos of low enriched uranium will be shipped to Turkey, potentially ending a standoff with world powers gearing for new sanctions against Tehran.

The agreement, under which Iran will in turn receive nuclear fuel for a Tehran reactor, was signed in the Iranian capital between the foreign ministers of Iran, Turkey and Brazil, an AFP correspondent said.

The signing came after three-way talks by Iranian President Mahmoud Ahmadinejad, Brazilian President Luiz Inacio Lula da Silva and Turkish Prime Minister Recep Tayyip Erdogan.

Under the agreement "Turkey will be the place to keep Iran's 3.5 per cent (low enriched) uranium," foreign ministry spokesman Ramin Mehmanparast told reporters.

"One thousand two hundred kilos (of LEU) will be exchanged." He added that Iran will officially notify the International Atomic Energy Agency (IAEA) of the agreement "within a week."

"The IAEA should inform the Vienna group (United States, France and Russia) of this proposal," he said of world powers which have wanted Iran since last October to accept a UN-backed deal to ship its enriched uranium abroad.

Israel, which along with many Western powers suspects Iran is using its nuclear enrichment programme to mask a drive for atomic weapons, immediately accused Tehran of "manipulating" Turkey and Brazil over the deal.

"The Iranians have manipulated Turkey and Brazil in appearing to accept the enrichment of part of their uranium on Turkish soil," a senior Israeli official in Jerusalem told AFP on condition of anonymity. "The Iranians have already pulled off such a trick in the past -- by pretending to accept such a procedure to lower tensions and reduce the risk of harsher international sanctions, then refusing to follow through," he said.

There was no immediate reaction from the IAEA, which had in its proposal suggested Iran send its uranium stockpile to Russia to be further enriched and then on to France to make nuclear fuel for a research reactor in Tehran.

Iran had so far stalled on the deal, insisting it wants to keep the LEU on its own soil for a simultaneous swap with reactor fuel. "If the Vienna group accepts the agreement (made on Monday), there will be an exchange of 1,200 kilos of Iran's 3.5 percent enriched uranium with 120 kilos of 20 percent enriched fuel," Mehmanparast said.

"The uranium stockpile in Turkey will be under Iran's and the IAEA's supervision," he said. "We hope the other party accepts this proposal." If world powers agree "Iran will ship its low enriched uranium during a period of one month to Turkey," the spokesman said.

Brazil's president, in Iran for a summit of non-aligned countries, held talks on the nuclear issue with Iran's leadership Sunday. At Iran's invitation, Turkey's Prime Minister Erdogan arrived at around midnight local time (1930 GMT) Sunday to join Lula.

According to Turkish news agency Anatolia, Erdogan and Lula along with Iran's President Mahmoud Ahmadinejad were to examine the final, detailed version of the agreement early Monday worked out by their foreign ministers. The arrival of Erdogan was a turnaround from his position on Friday.

At that point he said he was unlikely to join Foreign Minister Ahmet Davutoglu on the trip because of Iran's failure to confirm a commitment to the UN-brokered deal for an exchange of nuclear fuel.

But in an 11th-hour change of plan, he said Sunday he was postponing a visit to Azerbaijan to attend the Tehran talks. At the heart of the international dispute over Iran's nuclear programme is the suspicion in the West that Iran wants the highly enriched uranium it produces to make an atomic bomb -- a charge Tehran vehemently denies.

In recent days both Russia and the United States made it clear that they considered Lula's visit to Iran as Tehran's last chance. Iran faces the growing threat of new UN sanctions over its controversial atomic programme. Turkey and Brazil are both currently non-permanent members of the UN Security Council. Both have so far resisted US-led efforts to push through a fourth package of sanctions over Iran's failure to heed repeated ultimatums to suspend its sensitive uranium enrichment activities.
COMMENTS
Comments are moderated and generally will be posted if they are on-topic and not abusive.
For more information, please see our Comments FAQ