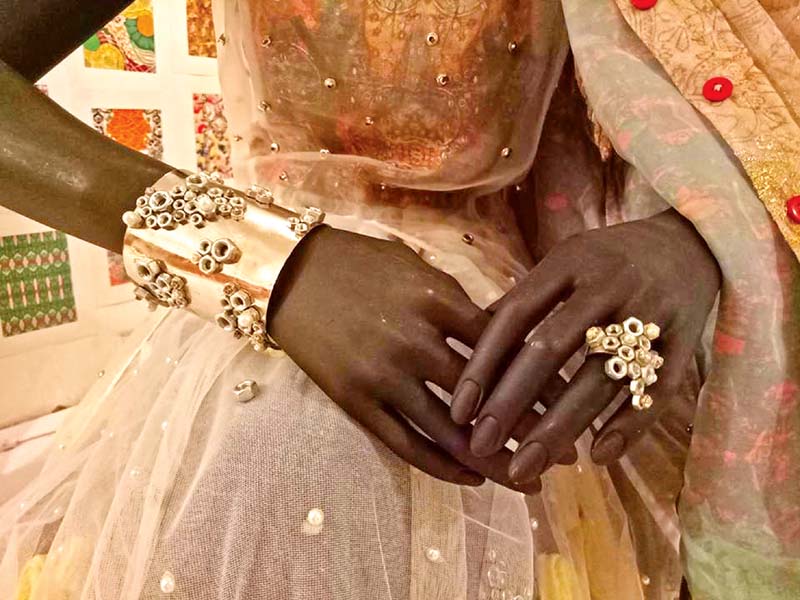 ---
LAHORE: Students of textile design, ceramics, fine arts and graphic design of the Hunerkada College of Visual and Performing Arts had a chance to display their theses at the Shakir Ali Museum and Art Gallery.

The three-day show was inaugurated on Wednesday by Punjab Skills Development Fund Chief Operating Officer Ali Akbar Bosan and Pakistan National Council of Arts Executive Director Jamal Shah.

Jacim Shafiq's thesis in textile design revolved around the concept of gender fluidity. He considered his creative process as gender fluid. The artist made use of both masculine and feminine elements in his work- such as the use of nuts and bolts on an apparently feminine dress. Jacim said gender fluidity suggests the existence of an entity not limited solely to gender.




"I hope to focus my work on continuous and simultaneous changes between genders in accordance with societal norms," Jacim explained.

According to the artist, he wanted to focus on how one gender was considered dominant, while the other subordinate. Jacim said he wanted to keep this contrast visible in his work.

"Though the work is a product of my experiences, the messages are left for viewers to untangle according to their perceptions."

Aniqa Zulfiqar's, thesis in ceramics and design is inspired from the Makli graveyard in Thatta, Sindh.

"I began carving these designs on tiles, giving it the usual two dimensional look. However, after further study of patterns, I found there is triangular grid which can be used to derive more designs in three dimensions," Aniqa said.




Based on this concept, she attempted to create similar designs in 3D using triangular or pyramidal shapes.

The artist said her thesis, comprising 3D structures, has taken some elements and influence of origami – the art of folding papers to create structures. "If you take a look at the contours of these structures, you'll notice they are forming some patterns and motifs, which are usually seen in two dimensional tile works",

Abdual Ahad Shamshi displayed his thesis in graphic design which is themed around encouraging tourism in the northern areas through hoardings and an app.

Published in The Express Tribune, April 7th, 2017.