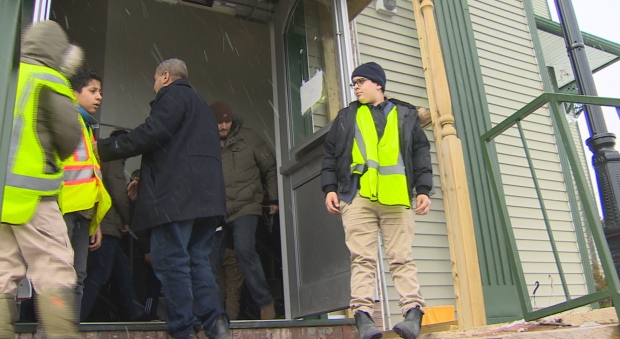 ---
A Muslim boy invited Canadian Prime Minister Justin Trudeau to visit his local mosque on Logy Bay Road to make people who pray there less apprehensive.

In a letter addressed to Trudeau, Abdullah Shahwan wrote about the fears Muslims held following the shooting incident at a Quebec City Mosque earlier this year.

"All my friends are feeling unsafe," Shahwan writes. "We feel scared all the time and can't enjoy coming to the mosque as we used to before."

The 12-year-old believes a visit by the prime minister will ease their fears.  Speaking on the CBC programme Here and Now, he that the visit "would make all the community, all the children, everyone here, feel safe again, coming to the mosque".

Young, shirtless Justin Trudeau breaks the internet

"A visit from him would mean a lot. Everybody would be happy. They'd feel comfortable knowing that the prime minister has our back," Shahwan maintains.

This, however, is not the only reason Shahwan had penned down a note to Trudeau. The grade seven student at Leary's Brook Junior High wanted to thank the prime minister for responding to a message he sent through a CBC reporter last summer, asking him to show a picture of Shahwan and his friend after Eid prayers to Trudeau.


The boys, following prayers marking Ramadan's end, say to me, "Send the picture to Justin Trudeau!" @JustinTrudeau pic.twitter.com/0crdwged3U

— Cecil Haire (@cecilhaire) July 6, 2016


The reporter obliged the kids with a tweet to Trudeau – who not only saw the photo but acknowledged too.


…tell them I saw it. And happy Eid!

— Justin Trudeau (@JustinTrudeau) July 6, 2016


"I was happy he did that," recalls Shahwan."I kept thinking I should write a letter thanking him and inviting him to our mosque."

"Then the incident in Quebec motivated me to write the letter as soon as possible," he adds.

Justin Trudeau has a Dutch doppelgänger and the internet can't get over him

The incident shook the entire community, persuading them to adopt security changes including keeping the doors locked and keeping a close watch at the mosque – which has become the 12-year-old's job.

"I have to recognise their face before I open the door. The door used to be open during prayer," he explains.

With time, though, things have mellowed down, Shahwan says. "The fear has diminished a lot. But there's still that tiny bit of fear."

This article originally appeared on the CBC News. 
COMMENTS
Comments are moderated and generally will be posted if they are on-topic and not abusive.
For more information, please see our Comments FAQ