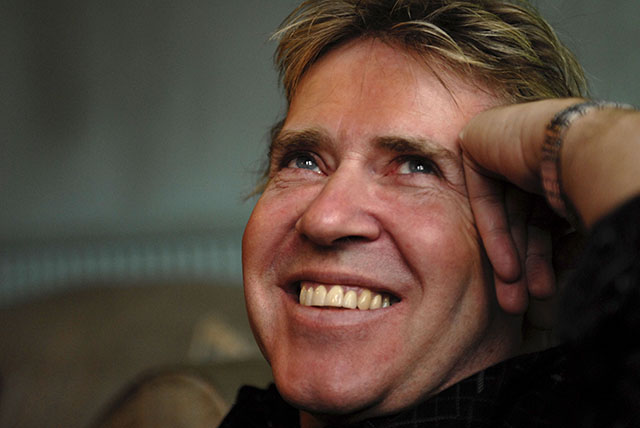 ---
If you're six-time Grammy-winning producer Steve Lillywhite, who has already worked on multiplatinum recordings with artists such as U2, the Killers and the Rolling Stones, what do you venture into next? Combine fast food and music of course.
Lillywhite is the chief executive of
Jagonya Music & Sport Indonesia
, a company in Jakarta, Indonesia, that bundles recorded CDs with fast food at KFC restaurants throughout the country.
At a time when physical CD sales have declined in the United States— according to the
latest report from the Recording Industry Association of America
, 99.4 million full-length discs were sold in the US in 2016, the fewest since 1986 — Lillywhite's company, a subsidiary of KFC in Indonesia, sells 500,000 CDs a month alongside menu items like the Chick 'N Fillet sandwich and the Colonel Yakiniku Rice box.
"My job is basically like running a record label, except this record label also happens to sell chicken," said Lillywhite, 62, who acts as a curator, choosing the music that goes into the Indonesian KFCs. At the moment, the songs come exclusively from Indonesian artists, though he hopes to expand.
Indonesian man dies during KFC's chicken eating contest
"Record companies pitch artists to me and I'll say either 'yes' or 'no.' Or I'll approach an unsigned artist and say, 'I will guarantee you a slot in KFC if you sign directly with us,'" he said in an interview at Electric Lady Studios in Manhattan, New York while listening to a new U2 song he's producing. His company orders CDs from a distributor and pays a percentage of the sales to KFC, as well as royalties to the artists.
Moving CDs in mysterious ways
Lillywhite's journey from Englishman known for championing soaring choruses to the creative guru of the Indonesian fried chicken music market began in 2011, when he was asked to give a speech at a music festival in Singapore. He met some people who later invited him to produce music for the Indonesian band Noah. When he travelled to the band's home to work on songs with them, he immediately fell in love with the country.
"I loved the food, the people and the way they saw music as an experience. My synapses were overloading," he said. "I imagined I would stay a year. I had nothing planned — I just thought I'd investigate the music."
Lillywhite moved from Hollywood to Jakarta in 2014 and produced albums for artists like Iwan Fals, whose music he describes as "a mix of Springsteen and Dylan." In March 2016, a mutual friend introduced him to Ricardo Gelael, director of PT Fast Food Indonesia, which owns 570 KFC outlets throughout the country, as well as Jagonya Music & Sport, the company that places music in those restaurants. "He was looking to solidify and expand his company's connection between CDs and chicken, as he realised he had become the new king of music distribution," Lillywhite explained. When Gelael offered him a job to run and expand the company, Lillywhite immediately accepted.
"Steve has a proven track record in music as well as a love of Indonesia," Gelael said in a text message. "So I thought he'd be the perfect person for the job."
A month of fast-selling CDs
In the US, most listeners consume music via digital services like Spotify and Apple Music. The story is quite different in Jakarta.
"CDs are still the No. 1 way to get music in Indonesia," Lillywhite said, noting that a small percentage of the population has credit cards and internet connections are slow, hindering streaming.
"In Indonesia, CDs are $4. Since nearly all of the record stores have closed down due to the cheap influx of pirated CDs, KFC is really the only place to buy them these days," he said. "People no longer go out to buy CDs on their own, but they do go out to buy chicken. And now buying a CD has become part of that experience. We even do concerts at KFC with some of our artists. So music and chicken have become intertwined."
KFC has a more upscale reputation in Indonesia, where the flagship restaurants "are more like Hard Rock Cafes than fast food outlets," Lillywhite explained. Stores keep a display featuring 10 to 15 CDs on hand for browsing, and the cashier asks customers if they want a CD bundled with their meal. Lillywhite estimates that 98 percent of their music sales "are to people who go in to buy chicken but see the CDs and say, 'Ooh, I'll have a CD too!'"
When selecting music for KFC, Lillywhite draws on what he has learned "makes people's emotions go wild." He explained, "They love ballads, they love smooth jazz and they love to cry. I also always offer a kids' album, as well as releases by big Indonesian artists like 19-year-old pop singer Rizky Fabian, the legendary rock band Slank and compilation albums too."
He is considering a "duets" album pairing Indonesian and Western artists and a venture into streaming is also in the works. A smartphone app is starting this year.
Kasey Mathes of KFC public relations in Kentucky, US, said that the company "doesn't have any plans to bring this to the US at this time."
Whether or not this business model would work in the US is up for debate. "This is reminiscent of when quick service restaurants in the US sold CDs of popular artists and compilations at a value price," said Larry Katz, a music industry lawyer and the former senior vice president for business affairs at EMI Records, who once brokered a deal between EMI and McDonald's that
sold millions of CDs over a 30-day period in the mid-1990s
.
U2 sued for allegedly stealing song for 'Achtung Baby'
Considering the dominance of streaming in the US, "Selling CDs at fast food restaurants here is likely a thing of the past," Katz said, "but it's not surprising that it still works in other areas of the world."
John Burk, president of Concord Records — a company that experimented with
placing CDs in Starbucks
— said the concept "certainly has worked," but also cited the rise of digital music as a deterrent now.
"If you want to buy an album and put it on your phone, which is what most people want to do, it's easier just to download it," he said.
While Lillywhite still takes the occasional trip to produce bands like U2, these days he is content in his new surroundings. "When I go into something, I go in feet first, with all my enthusiasm," he said.
But what do the members of U2 think of his new venture?
"They think I'm barking mad," he said. "Bono is obsessed with it. He's always telling people, 'Do you know what Lillywhite's doing? He's working for KFC!'"
This article originally appeared in The New York Times
COMMENTS
Comments are moderated and generally will be posted if they are on-topic and not abusive.
For more information, please see our Comments FAQ