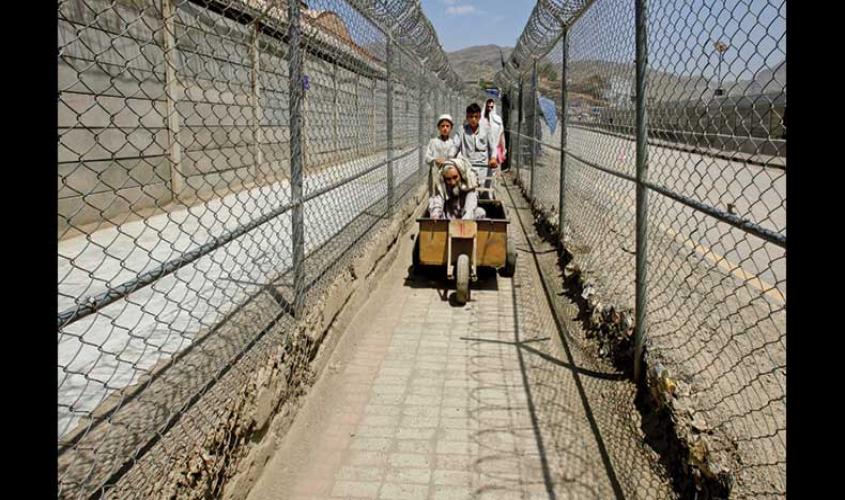 ---
ISLAMABAD: An Afghan parliamentarian has urged his government to set aside its differences with Pakistan and accept Durand Line as its border as it is already an 'internationally accepted border'.

Abdul Latif Pedram, a lawmaker and head of the Hezb-e-Kongara Milli Afghanistan (National Congress Party of Afghanistan), was speaking to newsmen in Kabul on Sunday following recent statements by some Afghan leaders, including Hamid Karzai, that Kabul will not accept Durand Line as its official border.

The Afghan lawmaker said his party recognises Durand Line as the official border and most of the tension between the two countries is rooted in Kabul's failure to publicly acknowledge this, according to social media reports.

"Solving problems with Pakistan will help bring peace to Afghanistan," said Pedram.

He claimed that the government "quietly accepts the Durand Line as the border but is not honest in its recognition with the public." He challenged the government to approach the United Nations if it does not recognise the Durand Line.

"Peace and stability will be guaranteed in the region when the issue is resolved," he said, adding that the Durand Line had been the cause of disputes in the region over the past several decades.

Clash at Chaman border crossing leaves 3 injured

Pakistan considers the border with Afghanistan as a 'settled issue' however, Afghan leaders insist it is a line and the 'Loya Jirga' or grand assembly could only decide its status. Pakistan has also started fencing of the border in Mohmand and Bajaur to curb the cross-border movement of the militants.

Former president Hamid Karzai raised the Durand Line issue after the Pakistani cabinet approved reforms in the tribal regions affected by violent extremism.

Karzai, who is known for his harsh approach towards Pakistan, Tweeted that the government of Pakistan has "no legal authority to dictate terms on the Durand Line."

Pedram's comments came days after the Afghan Chief Executive Dr Abdullah Abdullah was quoted as saying that Durand Line is no more an "imaginary line" but is an internationally recognised border.

Reports said Afghan leaders made the remarks during a meeting with a Pakistani delegation that was in Kabul for Nowruz celebrations late last month. Abdullah's spokesman later denied those remarks.

America's former special envoy for Afghanistan and Pakistan, Marc Grossman, and other US officials, stated that America regarded the Durand Line as an internationally-accepted boundary. Later the state department spokesman endorsed Grossman's stance after reporters sought his comments.

Pak-Afghan group calls for closer bilateral ties

During Karzai's government a Russian expert on Central Asia, Alexander Knyazev, had told the media in Kabul that "the Afghan government had prepared a document on recognising the 'line' as the final border between Afghanistan and Pakistan. But this issue will not be resolved by Karzai because it will evoke negative reactions from nationalist Pashtuns who want to annex the tribal Pashtunistan region to Afghanistan."

Knyazev's claims were also reported by several Afghan sources, but received little reaction from the then government. Some speculated that the dispute over the Durand Line would be resolved as part of a planned strategic cooperation pact with Pakistan. But it did not happen until Karzai stepped down in September 2014.

The Durand Line agreement was signed between Afghan King Abdul Rahman Khan and British India's Foreign Secretary Sir Mortimer Durand in 1893. The Durand Line constitutes part of the current border between Pakistan and Afghanistan, not the entire mutual border.
COMMENTS (1)
Comments are moderated and generally will be posted if they are on-topic and not abusive.
For more information, please see our Comments FAQ