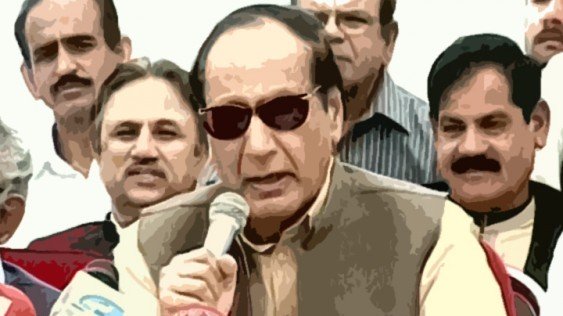 ---
LAHORE: Pakistan Muslim League- Quaid (PML-Q) president Senator Chaudhry Shujaat Hussain has said that the former president of Bank of Punjab (BoP) Hamesh Khan's life was threatened because he had declined to act on the instructions of chief minister Shahbaz Sharif.

"Hamesh had refused to issue a loan of Rs 700 million to Hamza and Salman Shahbaz and declined to involve the Chaudhry family in the Haris Steel Mills case," Chaudhry Shujaat told a crowded press conference here at his residence.

He said that Chaudhry Pervaiz Elahi had disclosed that the Sharif brothers had acquired billions of rupees in loans illegally from the BoP and by not paying them back they had bankrupted it, but the Sharif brothers never clarified their position.

He said that Hamesh Khan had told his attorney about the instances when Shahbaz and his sons had threatened him. He said all the efforts by the Sharif brothers and some of their supporters to involve the Chaudhry family in the case failed.

The party's central information secretary Kamil Ali Agha presented records from the US foreign department and said these "additional proofs" have unveiled characters who actually looted the BoP and other banks.

He said it was unfortunate that instead of responding to these allegations in the media and before the people, the Sharif brothers were taking non-political actions by alleging the Chaudhry family. He said the Sharif brothers deemed the Chaudhry family a threat to them.

He said the Sharif brothers are defaulters of Rs171 million of BoP alone. He continued: "Here we are not defending Hamesh Khan. All the facts will come forth as the case is pending in court. We are just pointing out that to what extent the Sharif brothers can go against their political opponents."

Chaudhry Shujaat alleged that in early 2007 the sons of Shabaz Sharif asked for loan from Hamesh Khan for their sugar mills business but the credit risk management department of the bank refused to issue the credit because of their earlier defaults. On this, Hamesh Khan was threatened with dire consequences.

Kamil Ali Agha, Choudhry Zaheeruddin, Choudhry Shafat Hussain, Makhdoom Khusroo Bakhtiar, Mian Imran Masood, Shahana Farooqi, Samina Khawar Hayat, Samel Kamran and others were also present at the press conference.