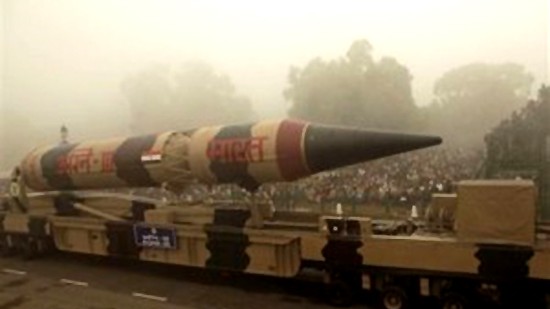 ---
BHUBANESWAR: The Indian military successfully tested a nuclear-capable, medium-range ballistic missile off its eastern coast on Monday, a defence official said.

The surface-to-surface Agni-II, which can deliver a nuclear warhead to targets within a range of 2,500 kilometres (1,560 miles), was fired from a mobile rail launcher on Wheeler Island off the coast of Orissa state.

The Agni-II has already been inducted into the services and Monday's "user test" was carried out by the army's Strategic Forces Command. "The user trial of the missile was successful and matched all mission objectives," said S.P. Dash, the director of the test range. It was the first outing for the Agni-II since the failure of a much-hyped night launch last November.

The missile, which is capable of carrying a one-tonne conventional or nuclear warhead, is one of a series being developed by India's Defence Research Development Organisation as a deterrent strategy against nuclear-armed neighbours China and Pakistan.

India already has the 3,000-kilometre range Agni-III missile -- the longest in the Agni series. Unconfirmed reports suggest India is also building an Agni variant with a range of 5,000 kilometres.