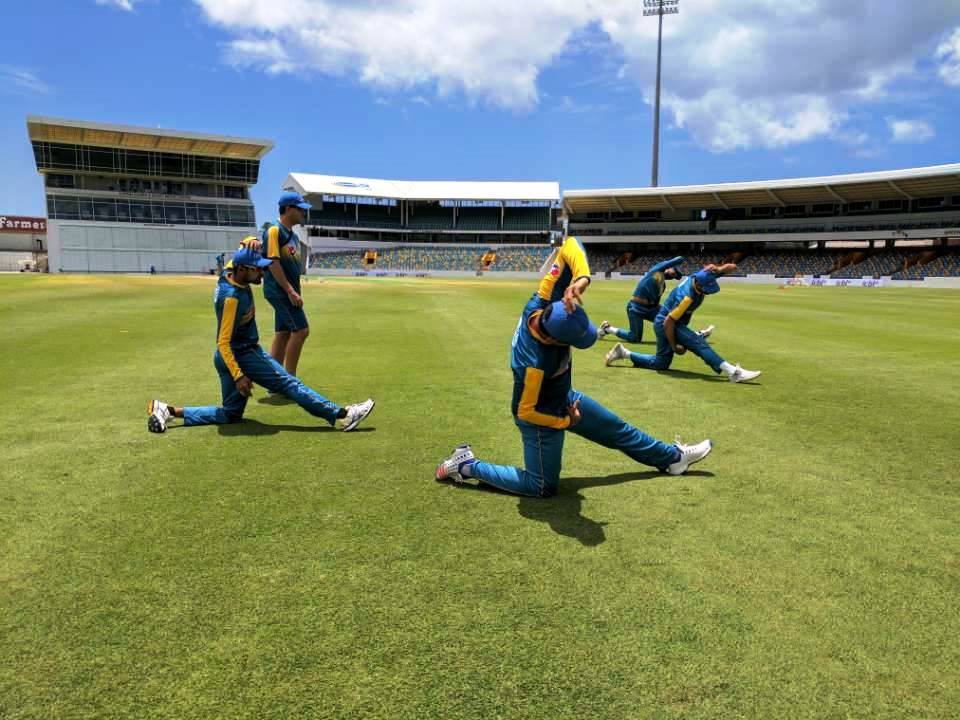 ---
KARACHI: Former leg-spinner Abdul Qadir on Saturday suggested that Pakistan should focus on playing the series against West Indies rather than feel low because of the recent spot-fixing scandal during the second edition of the Pakistan Super League (PSL).

Pakistan take on West Indies in a four-T20I series starting Sunday at Bridgetown. For the record, the Men in Green have beaten their Caribbean counterparts on five occasions out of the seven times both teams faced each other in the shortest format.


Pakistan coach Mickey Arthur's coaching mantra and the challenges for ODI and T20I squads #WIvPAK pic.twitter.com/gTnf8kYbbD

— Pakistan Cricket (@TheRealPCB) March 22, 2017


"Players should not let this scandal dampen their mood since they aren't the ones who did anything wrong; the ones who did are being interrogated," said Qadir. "They are going to represent the Pakistani flag [in West Indies]; they should do so with complete focus."

Strategy against Windies

Pakistan last played T20Is in West Indies in 2013 at Kingstown where they bagged the two-match series 2-0 with a two-wicket and an 11-run victory.


Pakistan Team playing football for team building on day one in Barbados #WIvPAK pic.twitter.com/yh8Vrbh7EV

— Pakistan Cricket (@TheRealPCB) March 23, 2017


During the matches, spin-bowlers bagged 18 out of the total 31 wickets that fell and Qadir believes bowlers will have an important role to play this time around as well.

"West Indies and Pakistan have nearly the same type of cricket mentality," said Qadir. "Both teams are mercurial and can beat any opposition of their day. However, if we consider them on equal terms, both teams' bowling performance will play a key role in deciding the winner."

Qadir also said that West Indies could have an advantage because of their fielding. "If we compare our fielding with theirs, they have a better unit. Their players are fit and strong and can take acrobatic catches, however, we do lack a bit in our catching and fielding department."

'Sarfraz as valuable as a diamond'

Sarfraz Ahmed, after being appointed captain in T20Is back in April last year, is going to lead the side in his first four-match T20I series and Qadir thinks he should receive strong support from everyone.

"Sarfraz is one of the best finds of Pakistan cricket and needs to be groomed," he said. "We should value him as a precious diamond. Most importantly, we need to make sure he does not face politics within the team. All the players, the Pakistan Cricket Board (PCB) and the think tank should support him in whatever he wants to achieve with the team. That is the only way of making him strong."


Pakistan T20I Captain @SarfarazA_54 warm-up before practice today in Barbados #WIvPAK pic.twitter.com/0JyFE8poyG

— Pakistan Cricket (@TheRealPCB) March 24, 2017


He further added: "He is the kind of person whom you can bet everything on and he will surely win for you."

PSL spot-fixing case

While the PCB probes the PSL spot-fixing case against Islamabad United duo, Sharjeel Khan and Khalid Latif, the 61-year-old believes a few things could have been done differently to ensure nothing like this happened again.

"The board never tries to control such things," said Qadir. "Examples should be made out of the players who are found guilty fixing; they should be punished."

He explained that sending the players back from UAE was a mistake. "It was PCB's mistake to send the players back to Pakistan. If they had enough evidence, as they claimed, they should have convicted them right then and there."

Qadir also seconded former Pakistan captain Javed Miandad's claim of strict punishment for the players who are found guilty. "I back Miandad in saying that the players should receive strict punishments if they are proven guilty. The PCB should deliver the verdict on the players after investigation, but the Federal Investigation Agency should also sentence them."


COMMENTS
Comments are moderated and generally will be posted if they are on-topic and not abusive.
For more information, please see our Comments FAQ