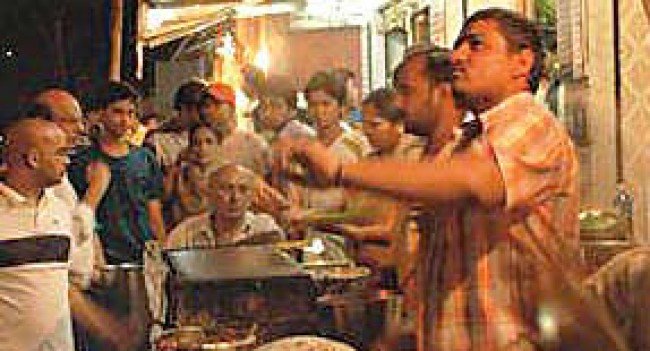 ---
KARACHI: Treating your taste buds in this age of inflation can be quite a challenge.

What previously was a matter of a few minutes can now result in a 30-minute long 'discussion' before one decides where to dine out. Reasons include a family's limited budget followed by an argument about the decline in the quality of a decent meal at a restaurant, the quantity of a single serving and sometimes even customer service. This is nothing but a sad reflection of how the economic downturn has affected consumers eating habits. This change, say many, has had a huge impact on the sales and customer base at restaurants.

The business of roadside vendors equally suffers. A survey of restaurants and roadside vendors selling food items in Karachi reveals how the food business has been hit the hardest by the doubledigit food inflation of over 15 per cent. "I was forced to raise the price of daal and egg bun kababs from Rs12 to Rs22 and the beef bun kababs from Rs22 to Rs35. As a result, my sales fell by 30 per cent," says Arif, a street vendor on Sharae Faisal, who was quick to blame the PPP government for rising inflation.

Starving for days on end has become the norm for his family as he is barely able to make ends meet with his dwindling wages, he says. Similarly, brothers Waleed and Anjum Khan, who sell haleem in the same area, worry about their business that is not doing too well. "We cannot even increase the price of Haleem because it is not an essential food item. Only those who can afford tend to enjoy the snack now," they said, adding that they have suffered a 50 per cent drop in sales over the past two years and are on the verge of a potential shutdown.

A french-fries vendor, Iftikhar, in the PIDC area stated that income fell by 20 per cent as he could not increase the price of a box of fries with the increasing price of potatoes. This would push customers away, he said. However, vendors offering popular food items such as Biryani are luckier because they have even been able to make money without offering chicken meat to their customers. "Sales of my plain biryani rose by nearly 15 per cent while that of chicken biryani fell by 40 per cent," said a vendor, who charges only Rs5 extra for the white meat.

This reflects that even a minor price difference affects consumer behaviour. On the other hand, mediumsized restaurants are not in good shape and have also felt the pinch of recession. Since eating habits of the middleincome population have been affected, for the time being restaurants are dependent on their loyal customers for sales. Owners of restaurants at the mouthwatering food streets of Burns Road and Boat Basin have a similar story to tell.

Most of them stated that they have raised prices within competitive bounds to avoid losing their customers. Mannan of Karachi Broast told The Express Tribune that he raised the price of broast at his restaurant by 75 per cent in the past two years to come at par with the rising cost of edible oil, chicken and spices. "But this has not affected our customer base significantly," he said, adding that sales have actually risen by 30 per cent, which he believes is sustainable in the near future. On the same street is Tandoori Hut which raised prices of its food items by nearly 90 per cent and suffered a blow of 50 per cent as a result.

Nihari Inn, on the contrary, has been quite pleased with its sales so far which have risen by 60 per cent, reveals Zulfiqar at the restaurant. In order to keep their sales up without losing customers, restaurant owners admitted that they have reduced the quantity of food and meals with just a minor price increase, which most of the time goes unnoticed by customers. The winners, however, are the high-end restaurants in Clifton and Zamzama which have withstood food inflation. One such restaurant is BBQ Tonight in Clifton whose sales have not been affected in spite of a 40 to 50 per cent increase in prices of its main dishes.

For more continental eateries such as Roasters, Arizona Grill or Evolution, the situation has been quite the opposite. However, the quality of food and the ambiance that these restaurants offer make their demand somewhat inelastic, leading them to make reasonable profits even in this economically challenging time. The catch now is to keep the value of meals in line with the customers' quest to find good value for their money - a skill that restaurant owners will need to sharpen in the time to come.

Published in the Express Tribune, May 16th, 2010.