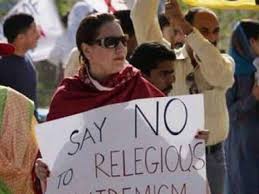 ---
PESHAWAR: An advertisement placed by the tehsil administration of Khyber-Pakhtunkhwa (K-P) in District Bannu for certain vacant posts has hurt the religious sensibilities of minorities.

The column in the ad stated that religious minorities such as 'Christians, Hindus and Shias' are eligible to apply.

It appeared in a local newspaper on Sunday issued by the office of the Tehsil Municipal Officer (TMO) for 14 sweeper vacancies with the permanent positions having Basic Pay Scale-2.

A separate column mentioned that all genders between a specific age group are eligible to apply.

Mostly Hindus and Christians are hired for positions such as these, however, this time around, the Shia sect has also been added to the list of minorities.

Speaking to The Express Tribune, Bannu Tehsil Nazim Malak Ihsan said that there was a clerical mistake in the ad released to the newspapers. Ihsan added that the original ad was to state that 'minorities are also eligible to apply'.

"We will issue a corrigendum in the newspapers about the clerical mistake in the ad."

He issued an apology from the administration to minority groups.

Forced conversion is a crime, says PM Nawaz

When asked about the mention of the Shia sect, he reiterated it was purely a clerical mistake and nothing else.

Local Government Secretary Jamaluddin Shah took notice of the ad and has given the directive to suspend TMO Salim and Superintendent Iftikhar Uddin.

He also has given the order to probe the issue.

Local Council Board Secretary Khizer Hayat Khan has been made Inquiry officer of the case and is to submit a report within two days.

Shah clarified that 'Shia' had been written by mistake, instead of 'Bashamool' in the ad.

He added that strict action would be taken for those responsible for hurting Shia sentiments.

The ad went viral on social media after being published with categorical condemnation pouring in, mostly for adding Shia to the list of minorities.

"Why do ads [advertisements] in K-P… even speak of religion while inviting applications," former Pakistani ambassador to the US Hussain Haqqani tweeted.


Why do ads in #KPK #Pakistan even speak of religion while inviting job applications? https://t.co/7B7pDOtMI4

— Husain Haqqani (@husainhaqqani) March 19, 2017


Pakistan Tehreek-i-Insaf Chairman Imran Khan also tweeted in response to the ad.


JUI-F in Bannu promoting disrespect & hatred amongst diff sects & religions. CM KP must act against spread of bigotry & discrimination in KP pic.twitter.com/IvlxEY76y4

— Imran Khan (@ImranKhanPTI) March 20, 2017


Benazir Mir Samad also tweeted saying that "specifying religion" for the job is unnecessary.


It's not abt Shia being included in the list but specifying religion for this job. There is totally no need ! https://t.co/r0GzMHqnGE

— Benazir Samad (@BenazirMirSamad) March 19, 2017


Muhammad Jibran Nasir, a social activist and lawyer, told The Express Tribune that the JUI-F government in Bannu hiring sweepers based on religious and sectarian basis reflects how residents are taught that a certain sect is inferior to another.

"This isn't the first time that ads for cleaning positions have reflected bigotry and superiority complex of the self-righteous in our government," said Nasir.

The social activist said that ads such as this have always reflected how our society looks down upon the religious minorities and now a Muslim sect has also been included in the list in shameless exhibition.
COMMENTS (7)
Comments are moderated and generally will be posted if they are on-topic and not abusive.
For more information, please see our Comments FAQ