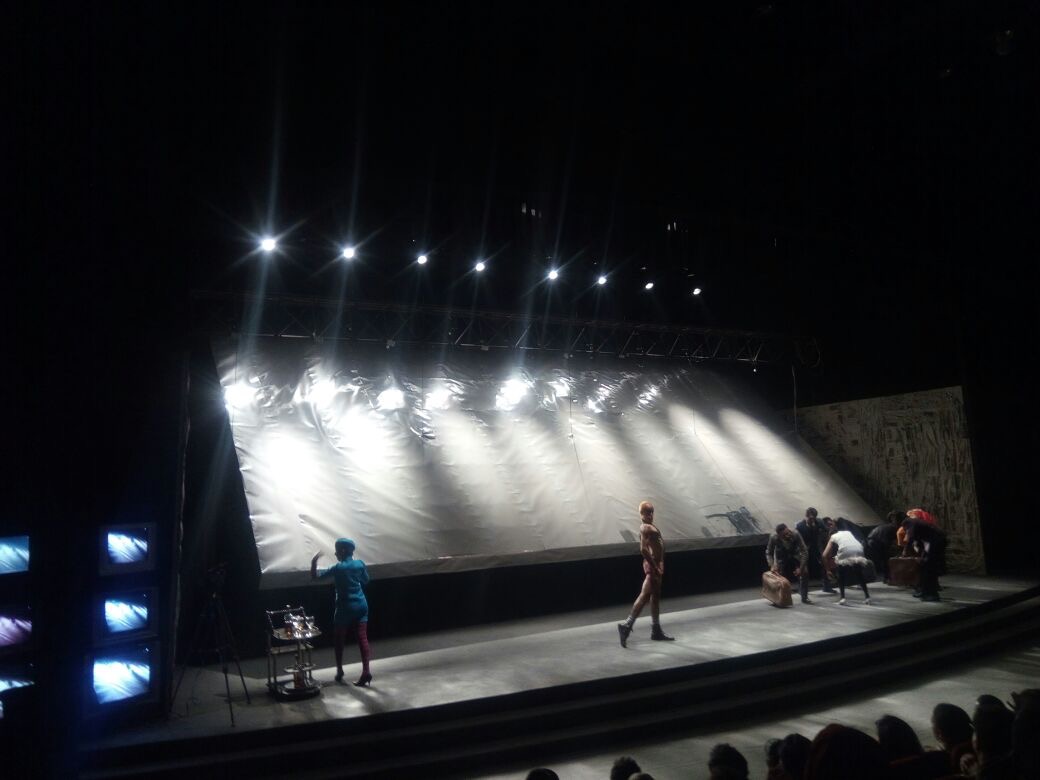 ---
KARACHI: The untiring, annoying buzz of alarm clocks, the yippity yap of talking television heads and bombardment of news from around the world coming in like an unwanted crescendo, are the kind of noises we are used to hearing.

Amidst all of that, we sit numb and idle, unable to dig deeper into meaningful ideas. This is what Hotel Propaganda, the opening play of National Academy of Performing Arts' (Napa) International Theatre and Music Festival, attempted to convey.

Room to grow: NAPA inaugurates new Basement Playhouse

More than a conventional, narrative play, Hotel Propaganda, helmed by German director and choreographer Brigel Gjoka, was a dance performance with sequences connected through a thematic thread. Comprising an ensemble cast which included Vajdan Shah, Sunil Shankar and Joshinder Chaggar among others, the play was a manifestation of the chaos of life through body language.




Hotel Propaganda was essentially a meditational experience with some beautiful light work and sets coming together to give space to the bodies grooving in a hypnotic manner around them. From Shankar announcing "I've got news. Would you like to have some?" at the beginning, to an eccentric entry by Shah, who burst onto the stage in an underwear and got dressed while doing his moves, the play provided a number of memorable moments.

Napa sheds light on child marriages with latest play 'Raat'

But it was the little details that made Hotel Propaganda more than an average performance. The director's juxtaposition of different elements to create subtle comic moments must be applauded. One that pops in my mind is when the performers are having dinner on a table that's considerably taller than their level. This is the kind of comic irony one can expect from Yorgos Lanthimos (director of the absurd and disturbing comedy The Lobster).




The lighting was unusual. I wouldn't say I have ever seen our local theatre troupes experiment with the technicalities, except perhaps Shankar and Chaggar in Conversations 2016. All the colourful overhead lights enhanced the mood of this surreal journey Gjoka took us on. If the theatre sensibilities of the director can be summed up in one line, it would be 'as if Wes Anderson was playing with lights instead of the costume and sets.'

The transitions between sequences were smooth. And the use of music was brilliant. The choice of tracks ranged from classical to rock to some Italiano flavour. Massive Attack's Inertia Creeps and Paolo Conte's Via Con Me fit perfectly in the range of moods that Gjoka conveyed, and complimented the elaborate stage setup with moving lights and bodies.




But one didn't realise the depth of the message until after the experience was over. When I was in my seat, amazed by the aurora borealis coming to life in the confines of an auditorium, I did not pay attention to the message. From that perspective, Gjoka's propaganda didn't work. But if one went home and pondered over this experience, it became clearer. If it's true that the perfect propaganda is when you don't realise you're being propagated to, the director is the master of it.

All in all, Hotel Propaganda is a spectacle that must be experienced to actually talk about it. It's the ultimate thrill ride that will take you on a surreal journey.

Have something to add to the story? Share it in the comments below.