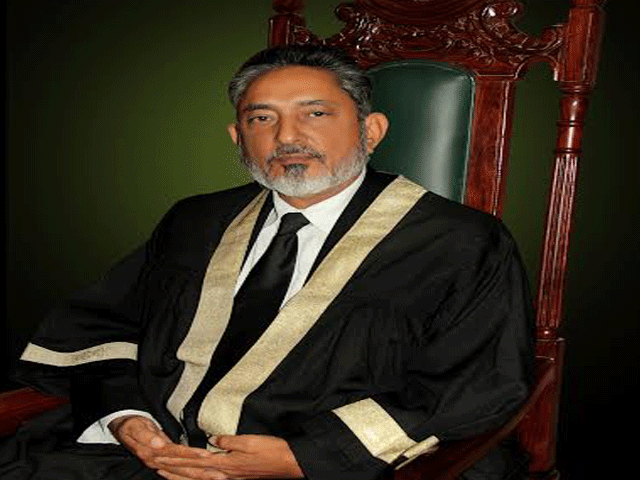 ---
ISLAMABAD: After five years of service, Justice Noorul Haq Qureshi leaves behind a digital legacy at the Islamabad High Court.

Justice Qureshi, who had been elevated to the IHC in November 2011, retired on Tuesday.

During his tenure, he strived to advance and improve technologies in order to ease the burden on the courts and to facilitate lawyers and litigants.

Key among these was an order he passed on March 6, wherein he ordered the installation of biometric systems, closed-circuit television cameras (CCTV) and computerisation of the revenue record in the capital within a month.

His association with technology has a long history and he used to head the court's IT Committee.

In September 2016, he launched a mobile application for the court, a first, which enables litigants and lawyers to get alerts, notifications and updates about their cases on their mobile screens.

"It is inevitable [that we] bring courts on a par with international standards," Justice Qureshi had said during the application's launch ceremony.




By using the app, litigants and lawyers can search cases based on case number, party name, respondent name, advocate name. Apart from that, they have the option to check copy petition status and daily cause list.

The objective of the mobile app was to disseminate information relating to cases filed in the IHC and to generate alerts whenever a particular case came up for hearing, orders, notices, summons, comments or short order.

Working with the development team which built the particular app, he worked to introduce a number of applications and completed several automation projects.

Some of the key applications introduced by the team during his term were the Case Flow Management System (CFMS), information and copying desk, electronic case alert messaging system (eCAMS), Case Law Management System (CLMS), Case Record Management System (CRMS), identity section/e-affidavit system, implementation of CFMS for district courts and special courts.

Further, he helped develop the functioning of the institution counter, Human Resource Management System (HRMS), the status of court cases, complete networking of two blocks of the court with fibre optic cables and installation of fibre optic and large TV screens at IHC.

The automation projects included the online CFMS at IHC and district courts, auto-notice management system, online complaint cell for overseas Pakistanis and the IHC mobile application.

Among a number of important cases on which he adjudicated or was part of the bench, included the case of Zakiur Rehman Lakhvi - the alleged mastermind of the 2008 Mumbai siege. He also upheld Mumtaz Qadri's death sentence for killing former Punjab governor Salman Taseer, while striking down terrorism charges.

Last act

In what was his last order as a judge, Justice Qureshi Tuesday dismissed a contempt of court petition against the Prime Minister.

Hearing a petition filed in bulletproof car case of the former chief justice of Pakistan Iftikhar Muhammad Chaudhry, seeking contempt proceedings against the premier and other for approving a 2,400CC bulletproof car for the former top judge, Justice Qureshi and Justice Aamer Farooq dismissed the petition.

The former secretary general of the Islamabad High Court Bar Association, Mohammad Waqas Malik, said that litigants and lawyers remained satisfied with Justice Qureshi's decisions and behaviour.

"He is respected for his upright character, always gave priority to public interest and never been accused of corruption and nepotism," Malik concluded.

Published in The Express Tribune, March 15th, 2017.
COMMENTS
Comments are moderated and generally will be posted if they are on-topic and not abusive.
For more information, please see our Comments FAQ