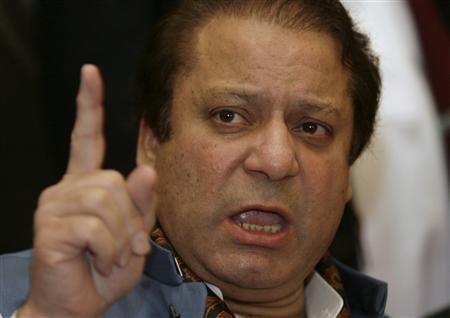 ---
Prime Minister Nawaz Sharif has said that blasphemy is an 'unpardonable sin' and ordered authorities concerned to nab those responsible for posting such content on social media.

"Law enforcers should search for the people spreading blasphemous material and prosecute them under the law," a statement quoted him as saying on Tuesday.


نبی کریمﷺکی شان میں کسی بھی طرح کی گستاخی ناقابل معافی ہے،وزیراعظم نواز شریف

— PMLN (@pmln_org) March 14, 2017


The prime minister also ordered stringent measures to be taken to stop blasphemous content from making rounds on social media.

IHC seeks detailed report on missing bloggers

"Love for Prophet Muhammad (pbuh) is the most valued asset for the believers," he said, directing authorities to nab those involved in disseminating blasphemous material.

He ordered daily reports on the matter, saying international organisations should be contacted for the elimination of all blasphemous content. The Foreign Office, he added, should play its role in the regard, Radio Pakistan reported.

The PM's statement came moments after the Islamabad High Court (IHC) directed the Federal Investigation Agency (FIA) to submit a report on the activities of four bloggers – who went missing earlier this year and resurfaced a few days later – and how they had managed to leave Pakistan.

IHC Justice Shaukat Aziz Siddiqui ordered FIA Director General Mohammad Amlesh to personally supervise the inquiry, pending before FIA, and 'take action[s] which are necessary to achieve the objectives, strictly in accordance with law.'

Hearing a case of blasphemous material on social media, five bloggers had been accused of creating pages such as 'Bhainsa' 'Mochi' and Roshni.

PM's son-in-law wants ban on social media

Petitioner Salman Shahid, through his lawyer Tariq Asad, had approached the IHC stating that blasphemy was being committed through the pages.

Pakistan Telecommunication Authority chairman Syed Ismail Shah told the court that a number of pages containing blasphemous content had been blocked while efforts were being made to tackle the issue.

The chairman said there was a realisation of the gravity of the issue and assured the court that positive results would be achieved soon.

PM arrives in Karachi to celebrate Holi

Meanwhile, the premier is in Karachi to celebrate Holi with the Hindu community. According to a statement, PM Nawaz will also hold meetings with the city's business community.


PM has arrived at Karachi.PM ill be attending 'Holi' event organized by Hindu Community nd ill also hold meeting with the Business Community

— PMLN (@pmln_org) March 14, 2017
COMMENTS (9)
Comments are moderated and generally will be posted if they are on-topic and not abusive.
For more information, please see our Comments FAQ