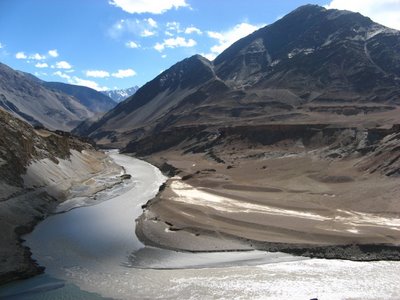 ---
HYDERABAD: Go to any place in Sindh, you will find a sense of insecurity about water.

Mehmood Nawaz Shah, a progressive farmer and vice-president of Sindh Abadgar Board, said this at a consultative dialogue, organised at Indus Hotel in Hyderabad on Friday by Hisaar Foundation. Experts and participants discussed the relevance of formulating a national policy on water and reiterated the past inter-provincial concerns.

The significance of conserving water, irrigating the arid zones, building new dams, equitable sharing among provinces, releasing water downstream to preserve delta and ecology resonate in the academic, political and policy discourses in Pakistan. However, forming a national policy for efficient use of surface, subsoil and rain water has eluded the country so far.

Sindh lawmakers blame Punjab for 'stealing' water

And one of the major stumbling blocks in the way of creating a national framework is the mistrust between Sindh and Punjab provinces, besides the governmental inaction over a broad range of other issues.

The event was held to seek recommendations from the stakeholders for inclusion in the policy draft prepared by the foundation, which is a think-tank working on water issues, for the government.

"Pakistan is a federation. But evolution of federalism started recently in 2010 after enactment of the 18th constitutional amendment," Dr Rajab Memon, former vice-chancellor of Sindh Agriculture University and a leader of Sindh Taraqi Pasand party, said while elaborating the Sindh-Punjab relations vis-a-vis water. "It's not possible to depoliticise water now. But it can be done after 10 to 15 years if the nascent federalism is allowed to become strong."

Regulator cuts water share of Punjab, Sindh

Giving a presentation on recommendations for Pakistan's water policy, Hisaar Foundation's Seemi Kamal said five focus areas have been identified for the framework. These are improving access of poor and landless to water, financing urban and rural water economies, protecting the Indus basin, improving governance of water institutions and application of science and technology.

She said Pakistan could not achieve its goal to be counted among top 10 world economies by 2047 without developing the water economy and providing clean drinking water to citizens. Kamal said the government ought to develop a mechanism to supply irrigation water for agriculture in the arid districts in eastern Sindh, southern Khyber-Pakhtunkhwa, southern Punjab and eastern Balochistan.

Improving water efficiency by 33%, achieving Rs100-billion production from one million acre-feet (MAF) of water, increasing water cess and generating 10,000 megawatt electricity from hydropower are set as the goals for the government.

Balochistan accuses Sindh of stealing its water

An average of 104 MAF water is released in the irrigation network in Pakistan with Punjab taking 79% share. The propositions call for establishing a system of water entitlements based on availability of surface, ground and rainwater in a province and a district.

Kamal said Punjab has the largest deposit of groundwater. "Punjab will never agree to reduce its share from the surface water [despite] availability of groundwater. But does it mean we should stop pressing the province [with this demand]?"

The participants pointed out that the draft has omitted certain important factors like protection of some 1,200 wetlands in Sindh and the historic role of the federal government on water issues between the Sindh and Punjab provinces. They also suggested inclusion of food security and environment as part of the water policy.

According to SAB vice-president Mehmood Nawaz Shah, a majority of some 1,100 distributaries in Sindh, which supply water from the canals to the watercourses, fail to take water to the tail-end regions. He said fresh water aquifers no longer exist in Sindh. "Until the recent past, the aquifers were supplied with fresh water. But now they are being polluted like the Manchar Lake where Main Nara Valley (MNV) drain empties with poisonous chemicals."

Major reservoirs hit dead level: IRSA

Abrar Qazi, the chairperson of Awami Jamhori Party, disputed with the figure of Sindh containing 21% groundwater among the national reserves. "In most places in Sindh, the subsoil water is saline. It contains high quantity of arsenic and lead."

Qazi suggested that the government under the international laws should take water from the three rivers, which were given to India under the Indus Water Treaty for the delta region in Sindh. He argued that the laws governing the trans-boundary waters provide for such a share.

An official of Water and Power Ministry pointed out how unfinished water projects create shortage instead of increasing the supply. "Darawat Dam [located in the mountainous region of Jamshoro near Lunikot] was inaugurated in early 2013. But because so far the irrigation system to carry the dam's water for cultivation of crops hasn't been built, the water [that] accumulates in this rain-fed dam evaporates." The dam's construction also blocked the natural flow of Nai Baran on which thousands of people living in Jamshoro's mountain region depended.