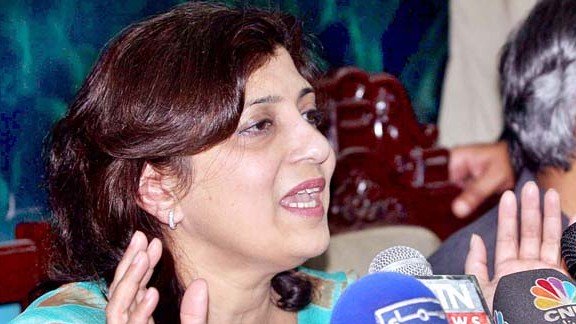 ---
KARACHI: "If it was up to her she would have cut our throats."

This is the 'comment' allegedly made by journalist Ansar Abbasi while speaking on a talk show programme on May 10. He was referring to MNA Fauzia Wahab, who is the Pakistan Peoples Party's information secretary. And she is 'suing' him for it. Wahab held a press conference at the PPP media cell on Saturday after serving Abbasi legal notice for allegedly damaging her and her party's reputation by using "unethical comments".

She said that the notice was issued through her legal advisor under Section 8 of the Defamation Ordinance of 2002. Wahab said that Abbasi was a senior journalist and she respected him because his word influenced the public, but such a statement painted a negative picture of her and the PPP and it not only caused her mental distress but also affected her family.

She said that the statement gave the impression that she had been involved in criminal activities, but in her 20-year career in politics, no case had ever been lodged against her. "So this statement is a direct attack on me and my party," she said, adding that journalism had immense power but with this power came a certain responsibility, which Abbasi had failed to uphold by making a deliberately "false statement".

In the notice, she has asked Abbasi to tender an unconditional public apology within 14 days from the date of the notice, otherwise she will initiate legal proceedings against him for 200 million rupees in damages. Minister Rafique Engineer said at the press conference that a legal notice must be served to the media against baseless stories as "some journalists want to harass [the PPP]".

He referred to a statement on a local telelvision channel to the effect that the PPP's Abdul Ghani Panjgori was involved in land grabbing in Scheme 42 Hawkes Bay. The Express Tribune contacted Abbasi who said that he had not used words that could injure the reputation of Wahab and her party.

"During the discussion I might have criticised the PPP's policy, but Wahab is quoting a different story," he said. He said that he had not received any legal notice so far and would not apologise for those words. He also alleged that some party leaders from the PPP, including Wahab's son, had threatened him and other journalists from his group.

Published in the Express Tribune, May 16th, 2010.