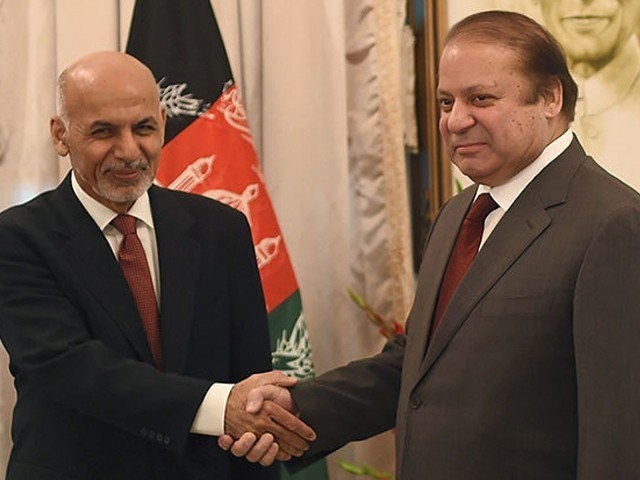 ---
Our media has adverted, with some surprise, at our more mild reaction to Kabul's reactions. After few days of anger, in which accusations were, as always, exchanged, but far more firmly voiced by Pakistan, than in previous occurrences and, during which, terrorist camps across the Durand Line were targeted, the COAS repeated the desire to fight terrorism collectively.

Is Pakistan merely blowing hot and cold or is there method in its madness?

To respond to this question, it is essential to review our geography. Pakistan shares borders with four countries. India takes up the entire eastern flank, in the south we have the Indian Ocean, north is a small outlet to China and then on our east we share borders with Afghanistan and Iran.

While Pakistan shares some ethnicity with all its immediate neighbors but most of all with Afghanistan. Like the majority population of Afghanistan, the vast majority of K-P province are Pashtun and in Balochistan, Pashtun are the second largest.

If Pakistan is the hub at the link of South Asia, Middle East and Central Asia, its links to Central Asia are through Afghanistan or, by a lengthier and indirect route via China. If India is determinedly hostile, Iran is, at best, indifferent and Afghanistan is firmly in the Indian camp.

Pakistan can ill afford a hostile Afghanistan on its western flank; but that is the Indian desire.

Furthermore, being a direct neighbor, an insecure Afghanistan will, of necessity, export insecurity to Pakistan; just as an insecure Pakistan will, of necessity export insecurity to Afghanistan.

The Afghan President, Ashraf Ghani must be credited for initiating a reconciliation process with Pakistan. Pakistan reciprocated with even greater enthusiasm and, for a while it seemed that a fresh chapter had opened.

Regretfully, Ghani's for a disparate variety of reasons, initial reconciliatory efforts by both sides were not as fruitful as they could or should have been.

And then, Pakistan committed its sole mistake; but it was a colossal blunder. Since reconciliation with Taliban had been initiated, for some inexplicable reason, the powers-that-were of the time, decided not to inform Kabul that Mullah Muhammed Omer had died.

The inevitable occurred. Kabul learnt of Omer's death and the bulk of the Karzai-adherents in the current setup called it a deliberate betrayal.

This gave the Pakistan-opponents in Kabul another chance and they started sabotaging any future effort at reconciliation at its inception. And they succeeded.

No wonder President Ghani gave up and decided to join the crowd. The crowning glory of this crowd came when Ghani scornfully spurned Pakistan's offer of financial assistance of $500 million — no mean sum for a country as firmly indebted as Pakistan.

That sufficed to embolden our TTP which was taking succor across the Durand Line and their Afghan hosts. But it also emboldened those encouraging this new "Proxy War".

Pakistan had to retaliate and did.

But the reality of geography is also stark. If we are neighbors of Afghanistan and want to ensure a secure Afghanistan, so too should Afghanistan want a secure country on its eastern flank.

If Afghanistan is land-locked or, as Afghans choose to call it, a "Transit Country", its transit, trade and commerce value to the world lies through Iran or Pakistan, not India. Even if, on Indian behest, it decides to opt for Iran, Pakistan will stay a neighbor and, by far the more economical route for transit.

Furthermore, China and Russia, both major powers neighbouring Afghanistan are interested in transiting through Pakistan.

The characteristics of the Pashtun (and other Afghan ethnicities) generally known to the world, apart from their hardihood and stubbornly courageous resistance to occupation is their Pashtunwali, strong tribal ties and hospitality.

But the Pashtun are also a risk-taking people, but not foolhardy ones; only well calculated risks. However, they are neither easily fooled nor unaware. Kabul, and the average Pushtoon is well aware of Pakistan's significance for them, just as we are.

Pakistan has done well in again reaching out to Kabul. I hope Kabul reciprocates. I am sure Kabul too has grievances; genuine ones. I have freely acknowledged one of them but, I think the error of not disclosing Omer's death was out of stupidity, not enmity.

We need to convince Kabul of that.

But we are also host to what is still the largest horde of refugees and, they are Afghan, we still share inter-country boundaries (since Afghan don't like to call it an international border), we will remain neighbours and are faced with the same problem; free movement of citizens, some of whom are terrorists, across state boundaries.

These problems can only be resolved bilaterally, if Kabul prefers to include other neighbours, these are welcome. But, the resolution will be one acceptable to both of us.

I suggest we follow General Bajwa's sterling and oft repeated advice and sit down to resolve our issues; not magnify them through the (also) oft repeated blame game.

Published in The Express Tribune, March 5th, 2017.

Like Opinion & Editorial on Facebook, follow @ETOpEd on Twitter to receive all updates on all our daily pieces.