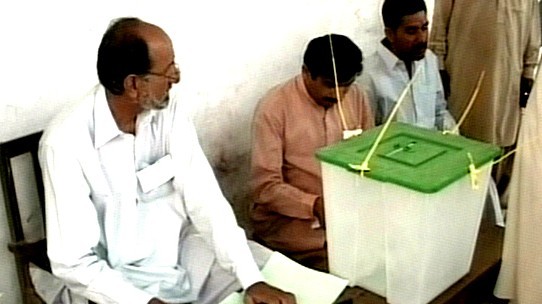 ---
LAHORE:
Unofficial results show that PML-N candidate Ajmal Asif has won from provincial assembly seat PP-63 Faisalabad, while, independent candidate Basit Ali Bokhari has won PP-259 Jatoi seat.
There was a close competition between People's Party's candidate Jamshed Dasti and Pakistan Democratic Party's candidate Nawabzada Iftikhar Ali Khan in NA-178 Muzaffargarh. However, the PPP candidate has won the seat.
Meanwhile, unofficial results show that People's Party candidate Asghar Ali Jatt has won in NA-167 Vehari.
A good voter turn out was observed at all the constituencies.
Strict security arrangements were made during the by-polls in the four constituencies in Punjab to avoid any untoward incident. The police also banned media from entering the polling stations.
COMMENTS
Comments are moderated and generally will be posted if they are on-topic and not abusive.
For more information, please see our Comments FAQ