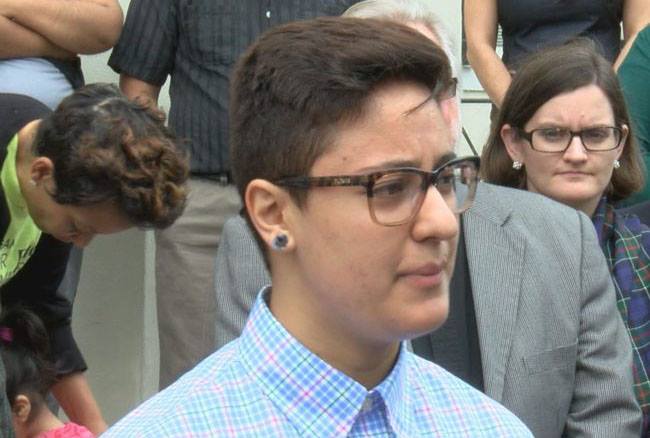 ---
A young woman who migrated to the US from Argentina when she was seven-year-old was detained by the Immigration authorities on Wednesday in Jackson, Mississippi, according to her lawyer.

Daniela Vargas was returning from a news conference organised by lawyers, church leaders and the Mississippi Immigrants Rights Alliance to raise awareness about US President Trump's immigration orders.

Arizona mother becomes first undocumented migrant to be deported

Peterson believes her client was followed by the authorities from the news event where she had spoken about how her parents' decision to move to the US had given her a 'better life', her fear of deportation and the dream of becoming a math teacher.

According to the 22-year-old's lawyer, Abigail Peterson, the officers arrested her shortly after the event at City Hall. "You know what we are here for," the officer told Vargas according to Peterson. She has been transferred to a detention centre in Louisiana where she is being held without bond.

The Immigration authorities have told Peterson that Vargas will be processed under 'visa waiver overstay' – a programme that deports immigrants without a hearing. Vargas currently has two applications pending, one for the renewal of her Deferred Action for Childhood Arrivals (DACA) status and another of work permit.

A non-profit organisation that calls for fair treatment of immigrants, United We Dream, issued a statement that explained that Vargas's DACA status had expired while she was trying to save money for the renewal fee, adding that she is a manager at a small store.

Iranian student back in US after being deported

The DACA programme was started by former President Obama which granted immigrant children who had grown up in the US to be eligible for work permits and allowed permission to stay temporarily. His successor, however, has remained unclear about the future of the progamme – which he had termed as 'illegal amnesty' during the presidential campaign.

Vargas' detention has been highlighted on social media with lawmakers, journalists taking an interest in her detention.


I'm in touch with @DHSgov for more info about this case. Disturbing that ICE may have followed her from an immigration press conference. https://t.co/fgjEbdwBfS

— Senator Dick Durbin (@SenatorDurbin) March 1, 2017
Dreamer arrested after speaking to media to be deported without hearing, attorneys says https://t.co/xR0rPznSnu #DanielaVargas pic.twitter.com/OgrCTI4NIR

— Khary Penebaker (@kharyp) March 2, 2017
Daniela Vargas, a 22-year-old DACA recipient, is being immediately deported without a hearing. Feel safer, America? https://t.co/UW29OZFqjS

— Jamil Smith جميل كريم (@JamilSmith) March 3, 2017
Argument that Daniela Vargas shouldn't have waited 4months to apply is silly when 75% of you live paycheck to paycheck! So you understand!

— Esther Lee (@EstherYuHsiLee) March 3, 2017
22 year old Daniela Vargas is a test. If they can deport her for free speech, DACA is officially dead. #FreeDaniela #NoBanNoWallNoRaids

— Arjun Sethi (@arjunsethi81) March 3, 2017
#DanielaVargas, the #DACA recipient whose lawyer says will be deported, came to the US from Argentina when she was 7.

— Julio Ricardo Varela (@julito77) March 3, 2017
This article originally appeared on the New York Times.
COMMENTS
Comments are moderated and generally will be posted if they are on-topic and not abusive.
For more information, please see our Comments FAQ