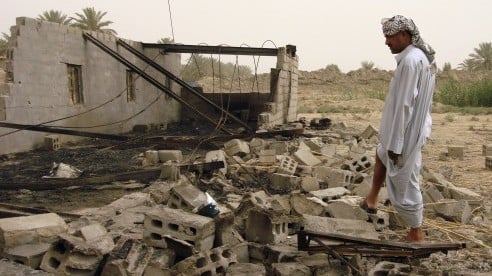 ---
MOSUL: A double bomb attack at a football match in northern Iraq, which was unprotected by security forces, killed 25 people on Friday in the second incident this week to cause mass casualties.

The explosion, which also left 120 people wounded according to hospital officials, occurred at around 6pm (1500 GMT) in Tal Afar, 380 kilometres (240 miles) north of Baghdad, a police officer told AFP.

Eyewitnesses said around 250 people were watching the game when the attackers struck and that no police or soldiers were on duty. "We heard a loud explosion and the people behind me shielded me from the shrapnel," said spectator Hussein Nashad, 29. "I ran away, but then I heard someone shout 'Allahu akbar' (God is greatest), and then there was another explosion."

The police officer said the double blasts were caused by a car bomb followed by a suicide attack. An interior ministry official said 25 people were killed and hospital officials said 120 others were wounded.

The incident came four days after a devastating series of attacks in five cities blamed on al Qaeda killed 110 people, in the bloodiest violence this year. Around five dozen bombings and shootings shattered a lull in unrest on Monday, as Iraq moved closer to forming a government two months after a general election seen as crucial to US combat troops leaving the country by August 31.

The government pinned the blame for those attacks on al Qaeda, while Iraq's deputy interior minister conceded that the nation's security apparatus was at fault and an inquiry into its shortcomings was underway.

In March 2006, Tal Afar was hailed as a model town by then US president George W Bush, but exactly a year later it witnessed one of the biggest attacks to hit the country. Some 155 people were killed in a day-long massacre, the deadliest violence to ever strike Tal Afar, when gunmen murdered 70 men in an overnight rampage on March 27 in revenge for bombings that killed 85 people earlier that day.

Friday's attacks were the deadliest to strike Tal Afar since July 9 last year, when a double suicide attack targeting the home of a police sergeant and his brother killed 35 people and left 61 others wounded. The latest violence came as political wrangling over the outcome of Iraq's March 7 election rumbles on.

A recount of votes in Baghdad yielded no evidence of fraud, Iraq's electoral commission said on Friday. Tallies from the 12-day process were still to be entered into the commission's computer system, with results expected on Monday, spokesman Qassim al Abboudi told reporters. "We finished the recount of 11,298 ballot boxes and no violations or fraud have been found," Abboudi told a news conference in the capital's heavily fortified Green Zone. He added that political parties could still contest the results from the recount, but offered no timetable for the complaints procedure.

Electoral authorities began a manual recount of votes in Baghdad, which accounts for 68 seats in Iraq's 325-member Council of Representatives, on May 3, nearly two months after the election.
COMMENTS
Comments are moderated and generally will be posted if they are on-topic and not abusive.
For more information, please see our Comments FAQ