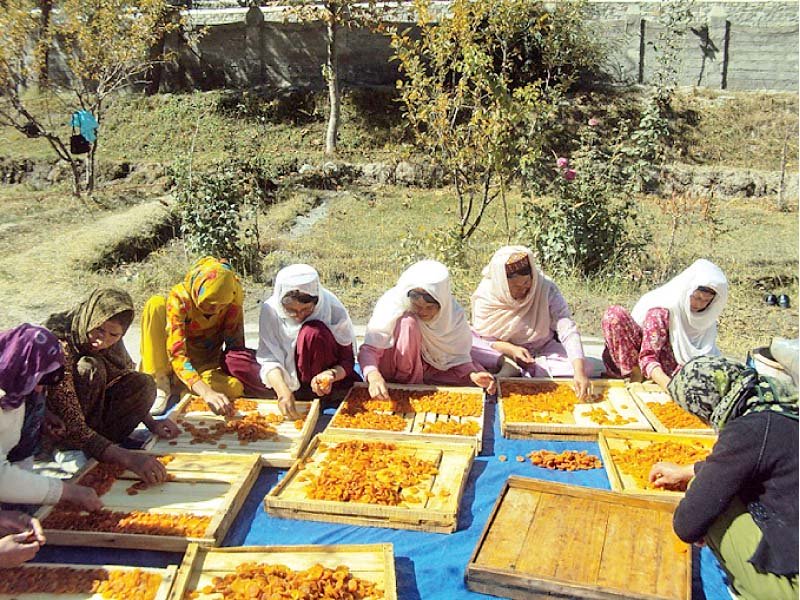 ---
GILGIT: In a region devoid of any large-scale agriculture, apricot has been the biggest agrarian lifeline for residents of the mountain-locked Gilgit-Baltistan for centuries.

With the arrival of China-Pakistan Economic Corridor (CPEC), locals are expecting a boost for their main cash crop.

According to G-B Agriculture Department Director Fazlur Rehman, there are around 2.97 million apricot trees in the region, while each household on average owns 15 trees.

G-B produces on average 114,286 tonnes of apricot every year. The fruit is largely exported to Russia, the world's largest importer of dry apricot.

Rehman hoped that with the arrival of CPEC, the export of the fruit would further increase.

Being one of the largest producers of apricots in the country, it is no surprise then that apricots, in its various forms, are an integral part of G-B's economy and lifestyle.

From the export of the fruit to a host of products made from its derivatives such as apricot oils and apricot-infused soap.

Long tradition

Rehman noted that apricots are believed to have originated in China or Central Asia, where the fruit was cultivated as a source of nutrition as well as for its therapeutic properties for over 4,000 years.

Residents of Hunzas, who inhabited the Himalayan mountains in G-B and were known for their vigour and long lifespan, used to cultivate and treasure apricots for its health properties.

Further, Rehman said apricots and other deciduous fruits were primarily used by the people as cash crops.

Moreover, the practice of planting seeds from the best trees over an extended period of time had resulted in large variation of the fruits.

Utility fruit

The consumption as food remains the primary purpose of the fruit. Rehman said that the fruit, dried out, was mainly produced to meet annual family needs for dry fruit, particularly during the long winter months.

The apricot trees, however, provide firewood. Oil extracted from the kernels is used for various domestic purposes, whilst cracked kernel shells are also used as fuel, Rehman added.

He further said that 30 per cent of rural households would annually earn between Rs6,000 to Rs8,000 from apricots and their by-products.

Variations

Several varieties of apricot are found in the Baltistan region such as Halmand, Wahphochuli, Lonakpochuli, Sherakarpochuli Shakhanda, Margulam, Karpochuli, Ambah, Staachuli, Khochuli, Brochuli. Some local cultivars of Gilgit region are Dugli, Neeli, Bedeiri, Chalpachu, Loli, Frugui, Khormagui, Alishah Kakas etc.

Published in The Express Tribune, March 3rd, 2017.
COMMENTS
Comments are moderated and generally will be posted if they are on-topic and not abusive.
For more information, please see our Comments FAQ