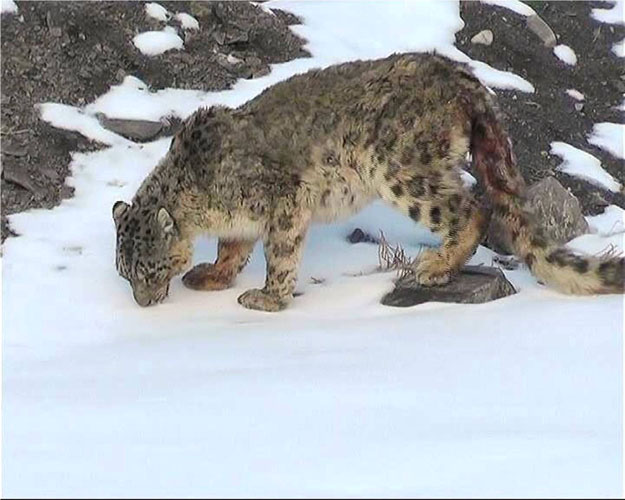 ---
GILGIT: A snow leopard attacked livestock on Tuesday night in Misgar of Gojal valley, preying on goats and sheep.

The attack comes in the backdrop of local communities capture of the female wildcat, which they claimed had killed over 40 heads of livestock in two months.

The leopard, however, was freed reluctantly after hectic negotiations with wildlife authorities.

Subsequently, the nine-year-old snow leopard was released in Khunjerab National Park in an attempt to guarantee it would not return to the area.

"Our goats have come under attack yet again," Mushtaq Ali, a resident, told the media.

In Gojal, two goats were used to lure snow leopard on prowl

"There were at least three snow leopards which killed eight goats and sheep," claimed Ali.

Villagers said the recurring attacks by the wildcats sparked fear in the area for the safety of their livestock.

The authorities, however, claim only two livestock fell prey to the snow leopard's fresh attack.

"The losses have been exaggerated by residents," said a wildlife department official, who asked for his identity to be withheld.

"We visited the area and didn't find anything that substantiated their claim. There is a chance the leopard might have killed one or two goats,'' the official added.

Moreover, authorities ruled out the likelihood that the freed snow leopard could have attacked this time around.

Previously, the wild cat was handed over to authorities on the condition that they would receive adequate compensation, two persons would be appointed as area game watchers, and an increase in the Himalayan Ibex quota for hunting.

This attack not only validated communities' fears of more attacks in the future but has also put the authorities in a weak negotiating position.

Hostage to demands: Snow leopard released after protracted talks

"There has been a consensus that we will start a non-cooperation movement against the wildlife department against its conservation activities," a community member told the express tribune.

"They have failed to protect us from the wild beast," he added.

"After the previous incident, we deputed staff for vigilance and there is also a mobile van with staff to help communities keep the wildcat at bay," Divisional Forest Officer (DFO) Muhammad Akram said.

"We are doing whatever we can to ensure safety for both; the snow leopard and the communities," Akram told The Express Tribune.

"We hope people understand this and support us in our efforts for conservation," he added.
COMMENTS
Comments are moderated and generally will be posted if they are on-topic and not abusive.
For more information, please see our Comments FAQ