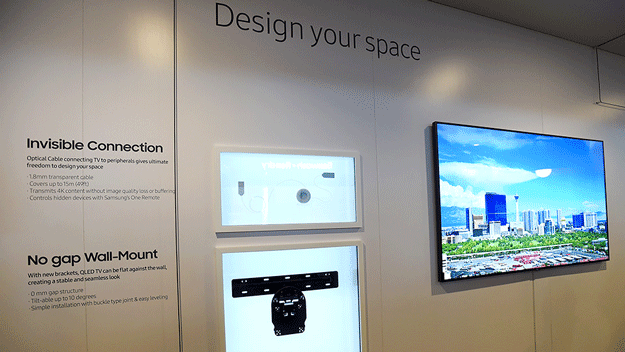 ---
Continuing its bid to provide the highest quality and worthwhile experiences to customers, Samsung Electronics showcased its new lineup of QLED TV series.

The South Korean multinational electronics company last week showcased the three latest QLED TV series --  Q9, Q8, and Q7 –  at its MENA Conference in Singapore. The TV series was announced at CES2017 at Las Vegas, Nevada earlier this year.




Touted as the finest available TVs in the market, Samsung's latest QLED TV series offers a striking array of lifelike picture quality, seamless design details, custom summaries and notifications and is superbly stylish.

Samsung launches two new tablets in flagship phone hiatus

Employing the latest technology which isn't in use by any other TV available in the market, the three models offer the "best picture quality ever." The new line-up offers improved colour performance and there's no colour saturation even at higher brightness levels – with even the subtlest differences visible at the QLED's peak luminance – between 1,500 and 2,000 nits. The dramatically improved colour performance means that while other conventional TVs distort colour when brightness is increased, it won't happen with Samsung's QLEDs.




Samsung's achieved the increase in brightness by adopting a new metal Quantum Dot material. The Quantum Dot material makes it possible for the QLED TV series to display a dramatically improved range of colour. The increase in brightness makes HDR content true to life in any form: movies, live TV, or games.

However, the improved picture quality is not all the QLED TV series offers. Samsung has gone a step further to make life convenient for customers while providing some of the best services. The company has upped the ante and improved on its smart TV factor -- the Smart Hub. The much-talked about Smart Hub has been updated to provide important information and offer personalised content recommendations – which is more than anything any customer could ask for. In fact, the Smart Hub also notifies users about their favourite sports matches and any other content they wish to be notified about.

Samsung to unveil Galaxy S8 on March 29 and this is what it may look like

Making sure that there's no point of inconvenience for customers and offering a full experience, the Smart Hub has also been extended to smartphones through Samsung's new and improved Smart View app. The 1 Plus, an update to the existing Smart View app extends the Smart Hub experience to mobile devices. This allows users to search for and play content on their TV through their mobile phones. Consumers can also choose to receive alerts on their mobile devices regarding their favourite content.




The series also only has one remote control – a sigh of relief for all those who keep losing remotes or loathe switching between three or more different ones. The "One Remote" is a single remote whicg controls everything from live TV to the cable box to plugged-in devices as the QLED TVs automatically detect the devices that are plugged in.

Beyond the actual display improvements and smart TV experiences, the QLED TV series include other new aesthetic features. Samsung seems to have covered everything with its new TV series from picture quality to remote convenience to visual appeal. The new series is not only good to look at but solving the problem of cluttered wires in every household, the new TV series offers an "Invisible Connection cable." The cable which is transparent runs from the TV to an external breakout box with the HDMI ports and other critical connections (but not power). This is designed to keep the home theater area a little less cluttered.




With the new series Samsung has also resolved the issue of thick wall mounts and makes the TVs perfectly fit in with any house's interior. The series offers a 'No-gap wall-mount', which makes it quick and easy to fix the TV against the wall. Or, for those who prefer not to mount the TV, Samsung is offering two new stands which make a statement in any room in the house. Consumers can choose either the 'Studio Stand', which resembles an easel with a painting, or the sleek 'Gravity Stand'.

Is this what Samsung S8 looks like?

The TVs also include some new software features, including a sports mode and an expanded music section.  'Sports' shows a customisable summary of a customer's favorite sports team and its recent and upcoming games, and 'Music' can identify songs as they are being played live on a TV show, among many other features.

Samsung has said that its QLED TVs are expected to be available in Pakistan in April this year.

With this new series Samsung has outdone itself. Not only offering the latest technology and great convenience but also devices which are visually appealing, non-problematic and truly a masterpiece.
COMMENTS
Comments are moderated and generally will be posted if they are on-topic and not abusive.
For more information, please see our Comments FAQ