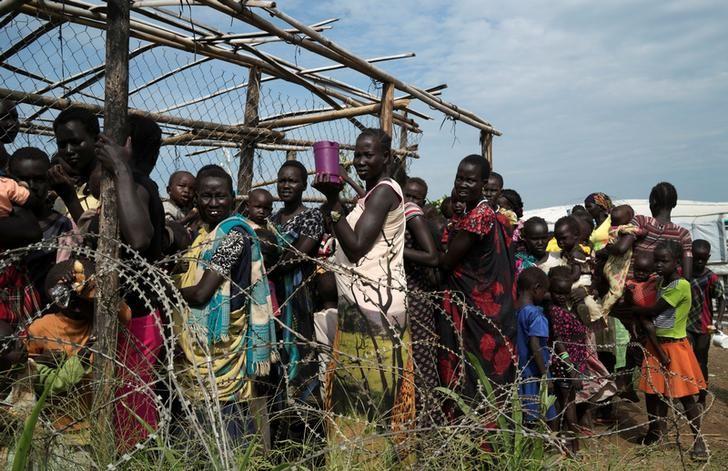 ---
JODAH, SUDAN: As hundreds of South Sudanese fleeing famine and civil war enter Sudan each day, aid workers warn of a lack of vital relief supplies, especially for malnourished children.

"We have a shortage of medicines and we have shortages of workers also," said Viola James, a doctor treating refugees at a transit camp along the border in the Sudanese state of White Nile.

About 5,000 refugees lived in the camp, James said, and she had only five workers to help provide medical aid.

"On top of that we're also helping nearby villages," she said as she checked a young boy suffering from malnutrition.

"There are many malaria cases among the refugees," she said.

South Sudan general resigns ministerial post, defects to rebels

South Sudan, the world's youngest nation formed after splitting from the north in 2011, has declared famine in parts of Unity State, saying 100,000 people face starvation and another million are on the brink of famine.

The UN refugee agency UNHCR said tens of thousands of South Sudanese are expected to pour into Sudan in the months ahead.

Sudan already hosts nearly 330,000 South Sudanese who have fled the civil war that erupted in their country in December 2013.

Several transit camps have been set up along the border to receive refugees.

The camp where James works is made up of several tents housing mainly women and children, an AFP correspondent touring the border area said.

It has makeshift toilets, bathrooms and plastic tanks from which dozens of women and children come to collect water supplies.

Some refugees said food was delivered to the camp once a week only.

Aid workers said the main challenge was to provide immediate food and medicines to women and children who arrived exhausted after undertaking long and risky treks.

"You can see from their faces that they're in a miserable condition," said Adam Saeed of the Sudanese Red Crescent, which is stationed along the border to register refugees entering Sudan.

"They have had no food for days. We get many children suffering from malnutrition."

As an immediate measure all children up to 15 years old are given food at the border itself, he said.

"We put them through quick nutrition checks, then give them some food and ensure they're vaccinated, mainly against cholera."

Behind Saeed, several refugees carrying bags on their heads or in donkey carts cross the border.

Once through the checkpoint on the Sudanese side, their details are taken and they are given first aid if necessary.

"When we started we were scared and thought we wouldn't make it. But finally we're here," said Vivian Fiter, who travelled from the city of Malakal in Upper Nile state with her sister and their children, including a four-month-old baby.

Fiter had embarked on the risky journey to be with relatives she said live in a camp run by the United Nations in Sudan.

"Those not living in the UN camps are really suffering. They have no food or any other aid," she said.

Aid workers at the border whisked her children off for a check-up and to get them vaccinated.

"When they arrive in such conditions we simply have to double our efforts," said Emad Abdurrahman, head of UNHCR's office in White Nile.

"Our problem is we don't have enough aid items or funding."

The UNHCR and its partners have appealed for $166.65 million to meet the needs of South Sudanese refugees in Sudan this year, but so far have managed to raise just five percent of that target.

Stay of Afghan refugees extended till year-end

"We have to come up with a new plan. The number of refugees is simply increasing," Abdurrahman said.

For many South Sudanese arriving at the border, they were actually returning to what was their home country before the split.

"I was shot in the leg one night in Juba," said Mour Mokor, who arrived at the border on Tuesday in a wheelchair and wanted to get to Khartoum.

"There is only misery there," he said of the South Sudanese capital.

"Now I want to join some family members in Sudan, where I used to live before the partition."