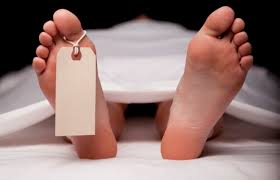 ---
HARIPUR: A married woman and a young man were found dead under mysterious circumstances in Khanpur, police and locals said on Tuesday.

The woman and young man, according to a minor girl, had committed suicide one after the other. However, it was not known why they committed suicide.

Khanpur police told that 30-year-old Madeeha, a mother of three, was the second wife of police constable Mumtaz, a resident of Eid Gah.

On Tuesday afternoon, when Mumtaz was on duty in Haripur city, 22-year-old Faisal from the neighbouring Mahajran Muhallah, visited Mumtaz's home. Locals said that Faisal used to frequently the house when Mumtaz was not at home.

Suicide or murder? Woman found dead in parents' home

When the young man visited again on Tuesday, locals said that an argument ensued between the two over an unknown matter. The quarrel continued for some time.

After a while, locals said, they heard a single gunshot from inside the police constable's home. Shortly after that Faisal ran out of the house screaming that Madeeha had committed suicide.

But the man went back into the house. Before locals could react, they heard another gunshot from the house followed by silence.

Perturbed over the situation, some villagers ventured inside the house and found Faisal and Madeeha lying in pools of blood.

One of the Madeeha's daughters told the police that when she returned home from school, she found her mother and Faisal arguing over some matter. After a while, the girl said, her mother shot herself in the head with a pistol

Meanwhile, Madeeha's family accused Faisal of killing her before committing suicide.

Curiously, the family did not file an FIR about the alleged murder.

Gas leak: Couple found dead in rented house

However, Aurangzeb, Faisal's father, lodged an FIR against unidentified people for the murder of his son. Aurangzeb further said that he had no enmity with anyone, but pointed out that son was 'murdered' in Mumtaz's house.

The bodies of the woman and the young man were shifted to DHQ Hospital Haripur, since there was no facility of conducting post-mortem at the Khanpur Tehsil Headquarters Hospital.

According to one of the doctors who carried out an autopsy on the bodies, both had received single gunshots, at point blank range, to their skulls.

However, police said the matter would be clear once they receive the final autopsy report.

Officials said they had taken mobile phones of the man and woman into custody and their data would be used by investigators to trace their last known whereabouts.

Meanwhile, a police officer suspected that the two had illicit relations.

Published in The Express Tribune, March 1st, 2017.