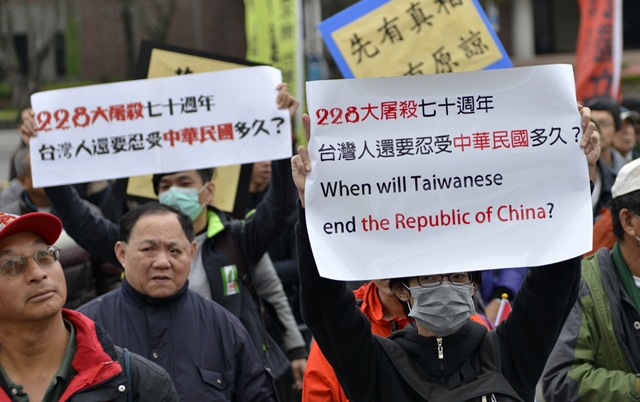 ---
TAIPEI: Hundreds of protesters rallied in Taiwan on Tuesday to mark the 70th anniversary of a massacre by nationalist Chinese troops, calling for justice as the island's leader vowed to investigate the killings.

The 1947 massacre, also known as the "228 Incident", was a crackdown on island-wide riots that began on February 28 after an inspector beat a woman selling untaxed cigarettes in Taipei.

Mainland troops called in to quell the unrest under Chinese nationalist leader Chiang Kai-shek, whose Kuomintang party governed the island as part of China at the time -- are estimated to have killed up to 28,000 people over several months.

The violence was also a prelude to the "White Terror" -- a reference to wider purges under martial law imposed by Chiang, who fled to Taiwan after losing a civil war in 1949 to the Communists.

Demonstrators gathered Tuesday at the Taipei memorial hall named after the former ruler, burning the national flag and throwing eggs at the gates while shouting "bring down the 228 murderer".

Death toll in Taiwan tour bus crash rises to 33

Some protesters were injured in clashes with Chiang supporters as they headed towards the main building of the hall waving placards reading "demolish the authoritarian icon".

Activists want the statue of Chiang, who is largely blamed for the violence, to be removed from one of Taiwan's most recognisable landmarks.

"It's unreasonable to idolise Chiang Kai-shek since he's a murderer," said 19-year-old college student Fan Wen-yen.

The government announced last week that the hall would stop selling souvenirs depicting Chiang and cease playing a song dedicated to the former ruler, while references to him would be removed from galleries.

But the culture ministry said for now a 6.3-metre (20-feet) bronze statue of a seated Chiang -- the hall's centrepiece -- would remain.

Taiwan Uber drivers protest fine hike as app halts service

Relatives of the victims also called on the government to list those responsible for the massacre in official records and textbooks to hold them accountable.

"There are still so many victims but no perpetrator after 70 years. That must be clarified to return us justice," said Lin Li-tsai, who lost her father in the massacre.

President Tsai Ing-wen, who took office in May with pledges to promote "transitional justice", gave a speech at a Taipei park Tuesday to commemorate the killings.

She promised to pass legislation to set up an independent agency to investigate.
"I hope one day the truth will be completely clarified," she said. "The perpetrators will be willing to apologise while the victims and their families willing to forgive".