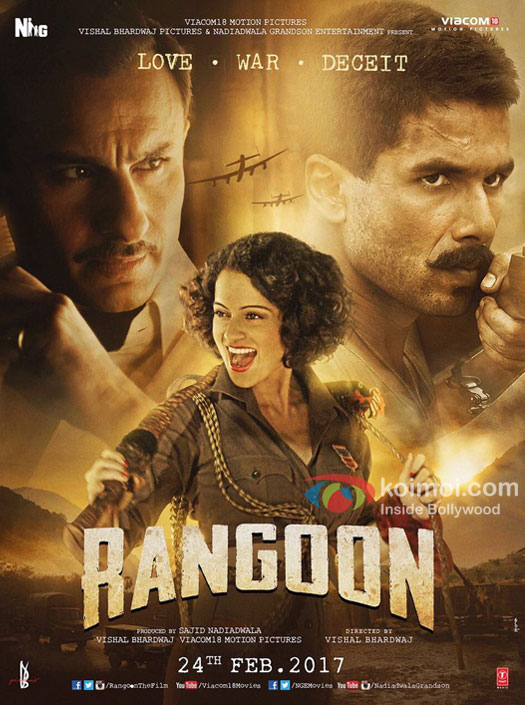 ---
KARACHI: More than the ability to build and figure things out, sometimes, in my opinion, what truly makes us human is the art of storytelling. The very sense of anticipation that is passed on from one generation to another shapes an innate understanding of a narrative in every child.

As a result, identifying how a cause-and-effect chain of events and ideas is connected is not an art; to be able to piece it all together requires serious craftsmanship. Vishal Bhardwaj's Rangoon makes such a huge mockery out of this human endeavour that you're forced to question as to which is a bigger crime? A film like Rangoon or the fact that it's been directed by someone as gifted as Bhardwaj.

The latter of course. Bhardwaj was perhaps the only director left in Bollywood who could break new grounds in storytelling while maintaining the popular taste in mind. That technique of his unfortunately didn't materialise in case of Rangoon, which has abysmally proven to be a eulogy for an otherwise sparking film career. The real tragedy, however, is how a film like Rangoon undermines its own potential.

Here's what Twitterati have to say about Rangoon.

Juliya or Ms Julie (Kangana Ranaut) is a Bollywood diva of the 1940s who is romantically involved with her producer Rustom "Rusi" Billimoria (Saif Ali Khan). She is eager to marry him but he is still struggling with the relationship he shared with his previous wife. In the midst of it all, the British army wants Julie to perform for its troops stationed in Burma and upon Rusi's pressure, she agrees to do so. Under the protection of Jamadar Nawab Ali (Shahid Kapoor) and the threat from the Japanese forces, Juliya heads to Burma.

It looks as great on screen as it sounds on paper and there are no two ways about the fact that Rangoon is a beautifully shot film - from the attention to detail in terms of recreating the particular time period to seamlessly merging diegetic songs, Rangoon is undoubtedly a treat. But despondently, it all ends there - just when you begin to embrace the director's brilliance, you realise that even the most focused of film-makers can lose focus. In Bhardwaj's favourite Shakespearean words: what follows is full of sound and fury that signifies nothing.

Much like Saif Ali Khan's film career, Rangoon is unsure about what it wants to be about. It builds a tightly-knit narrative and proceeds to suicide bomb it, and in doing so it can't decide whether it's a propaganda film or a romantic flick. Just when you think it's going to be a political thriller it turns out to be yet another adventurous journey enveloped in romance - and when you think it's the other way around, it makes some major propaganda statements. There's nothing wrong in having a plot that is baffling till the end of the second act, but the glitch in this case is that the confusion lingers without adding to the drama or the discourse. It's simply a waste of creative abilities and talented individuals.

I have always operated from the place of my individuality: Kangana Ranaut

All performances are pretty exceptional, be it Kangana as a star who realises she doesn't have her own limelight or the collected and eloquent Saif Ali Khan, everyone fits the bill. Kapoor's muscular physique adds to his overall appeal as he essays the role of a soldier who is on a whole different mission that unfolds as the plot progresses. The most entertaining however is English actor Richard McCabe as Major General Harding, who belts out one Ghalib couplet after another to keep the film alive.

But none of this sadly saves Rangoon from turning into a calamity of sorts and it's a shame because the film had so much meat in it to begin with. It keeps on getting more cringe worthy with time, so much so that you end up laughing at the seriousness of the scenes. Like Lootera before, Rangoon convinces me that no Bollywood film is worth watching after the interval. And Like Saif Ail Khan in the film, I too ended up questioning in the end, kia chahtay ho tum?

Rating: 1.5/5

Have something to add to the story? Share it in the comments below.