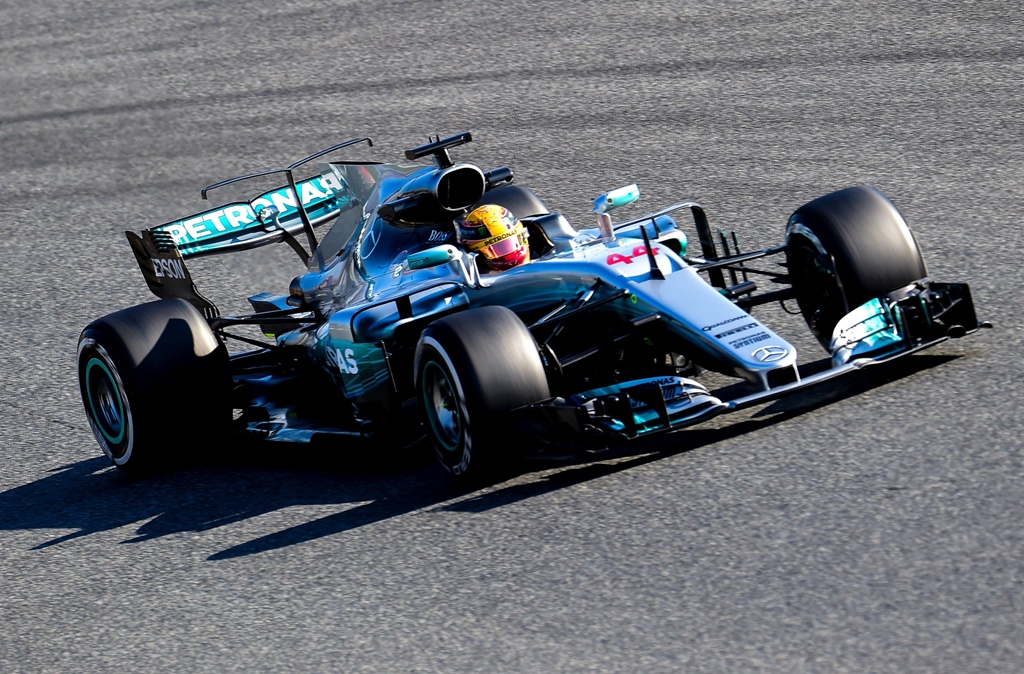 ---
BARCELONA: Lewis Hamilton fired a warning to his title rivals on Monday pipping Ferrari's Sebastian Vettel on the opening day of pre-season testing in Barcelona in his "beast" of a Mercedes.

Vettel topped the timesheets in the first session but the Briton Hamilton, taking over the wheel of Mercedes' imposing 2017 car from new teammate Valtteri Bottas, clocked the day's best lap of 1min 21.765sec.

The Finn Bottas, world champion Nico Rosberg's replacement at Mercedes, topped the times at one stage in the morning but slipped to only sixth-fastest overall after Hamilton stepped into the cockpit.

Bottas was beaming after his first significant test with his new team. "It's a great feeling," said Bottas. "I only started a month ago, but what I have seen has been very impressive."

Hamilton, enjoying F1's new owners Liberty Media's focus on promoting better interaction with the sport's fans on social media, was live from the cockpit on his Instagram account.

Bottas joins Mercedes in 'dream' move

https://www.instagram.com/p/BRBo839gkzm/

The deposed three-time world champion said afterwards: "I definitely put my body to the test today.

"These test days are like training. It was good to feel the wider, beefier car. It's faster, more physical... it's a beast.

"You've got to drive it a bit differently. It's so much better than last year's cars."

The 32-year-old added: "I still think we're the team to beat, but we have a lot of work ahead of us to do."

With radically new rules the 2017 F1 cars are wider and more powerful than their predecessors.

And combined with Pirelli's wider tyres their extra oomph was plain to see in Barcelona with the fastest lap time for the entire eight days of last year's testing lowered several times on day one.

Mercedes' daunting reliability was underlined by the German constructor's car completing over 150 laps.

Ecclestone removed as Formula One chief

But Ferrari fans will take heart from Vettel, in action in both sessions, also putting in the miles with 128 laps.

And Felipe Massa, back in business for Williams after flirting with retirement, was another enjoying himself at the Montmelo circuit.

The Brazilian completed 103 laps and posted the third-fastest time.

But the pre-season testing woes that have haunted McLaren returned, with the once all-conquering British team forced to switch Honda engines after an oil problem.

Fernando Alonso had to wait over seven hours before putting his first timed lap on the board.

The Spanish two-time former world champion eventually mustered 29 laps in front of his home supporters, albeit a mammoth three seconds slower than Hamilton.

"Obviously today hasn't been the most perfect start to winter testing, which is a little bit disappointing," shrugged Alonso. "We lost a lot of track time which isn't ideal at pre-season testing, but the situation is what it is, and there's nothing we can do."

Formula One world champion Nico Rosberg announces surprise retirement

American team Haas will take away plenty of positives from their performance with Kevin Magnussen producing the fourth-quickest lap.

But Red Bull had issues, with Daniel Ricciardo only managing four laps before lunch, the Australian making up for lost time in the second stint to post the fifth-fastest time.

While the general view from the pits was that the 2017 cars mixed style with power, the one bone of contention was the addition of the prominent "shark fins" rising from the airbox behind the driver's head.

"I think the cars look fantastic, the only thing that lets them down is the shark fins," said Red Bull boss Christian Horner.

This was the first of four days testing this week, with another four-day session starting next Monday, ahead of the opening Australian Grand Prix in Melbourne on March 26.